Bottle Shop A Taste Of Europe Basket $125 Each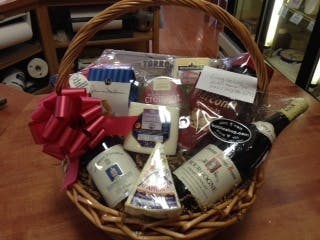 Our family has been making gourmet wine baskets since 1972. Mom & Dad 'handed down' this special craft, and you can be assured that our gift baskets are creative & unique --these are not mass produced baskets! The more you spend, the more product that goes into your unique, hand crafted gift basket. Also, the more you spend, one of our wine experts will choose special wines specifically for your gift basket and the gourmet products that go into it.
We taste hundreds of products every year, searching for the most delicious & innovative European gourmet products, and this fashionable 'Taste of Europe' gift basket is filled with them! A bottle of dry Europea red is paired with an elegant European white, biscuits for cheese, olives, cookies, jam, candy, chocolate & more. Please indicate in the order notes if you would like fresh cheeses included.