Oyster Bay Sauvignon Blanc 2019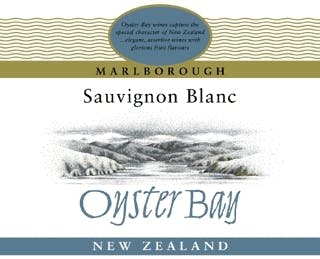 Oyster Bay takes its name from the local Oyster Bay in Marlborough, on the tip of New Zealand's South Island. Oyster Bay's reputation has been built from vines grown in Marlborough's Wairau Valley. The philosophy of Oyster Bay is to produce fine, distinctly regional wines that are elegant and assertive with bright fruit flavors. It all starts in the vineyard. They treat each vineyard block and parcel of wine as individual. The fruit is crushed, gently pressed and the juice is cold settled. Oyster Bay Marlborough Sauvignon Blanc is zesty and aromatic with lots of lively, penetrating fruit characters. A concentration of tropical, gooseberry, lime and green leaf flavors with an abundant bouquet, it is a wine that is crisp, elegant and refreshing. Pair this with citrus-accented scallops or shrimp or with fresh goat cheeses.
Wine EnthusiastBright and fruity, this wine offers notes of passion fruit, citrus, white spice, ginger and grass. There seems to be a touch of residual sugar on the palate to balance the acidity and add texture to the fruit. Crisp, refreshing and citrusy, this checks all of the Marlborough SB boxes.