Chateau d'Yquem Sauternes 2015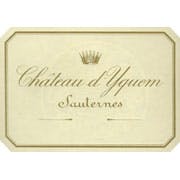 Unavailable
We're sorry, but this product is not currently available.
Please note this is one half bottle or 375 ML of Chateau Yquem:
Château d'Yquem is the the most sought after sweet wine in the world ... it may be enjoyed at a young age while fresh and lightly sweet, yet the wine remarkably has the ability to age for 50-75+ years making it a world famous wine at prestigious wine auctions. Planted to 80% Semillon and 20% Sauvignon, this legendary First Growth estate is located in the heart of the Sauternes region, and sits atop a small hill overlooking its neighbors.
Grape growing at Château d'Yquem remains very traditional. Fertilizer is exclusively organic and used sparingly. Respect for traditional, time-honored practices has been the basis of Château d'Yquem's winemaking philosophy for over two centuries – and ample proof of its "sustainability" in the vineyard. Living in harmony with nature is a necessity since the grape harvest at Yquem relies entirely on what is paradoxically the most important thing to achieve in the vineyard, Botrytis cinérea. With an experienced, detail-oriented team, it takes no more than one hour for grapes that are picked by hand at Château d'Yquem to arrive at the cellar.

One of the most famous wine quotes of all-time and the origin of the term 'Nectar of the Gods' came from Frederic Dard : "I do not call Yquem a wine because there are an infinite number of "wines" as such, but Yquem is unique. I prefer the word nectar – the drink of the gods – and if I found one that was more noble, I would be less ashamed of our restrictive vocabulary so poorly suited to superlatives."
Wine AdvocateFollowing a very long harvest stretching nearly two months, the 2015 Château d'Yquem came in at 13.9% alcohol and 144 grams per liter of residual sugar, sporting a pH of 3.65 and six grams per liter of tartaric acid. None of these numbers, however, even remotely begin to tell you how profound this wine is. The nose opens with electric notes of ripe pineapples, green mango, orange blossoms and lemon tart with hints of fungi, lime zest, crushed rocks and jasmine. The freshness on the palate is just astonishing, permeating and lifting layer upon layer of tropical fruits and earthy notions, all encased in a sumptuous texture and culminating in a very, very long, mineral-tinged finish. Truly, this is a legendary vintage for d'Yquem. I've been conservative with my drinking window here, and I would not be at all surprised if our descendants are drinking this vintage well into the next century.
Wine SpectatorFresh-cut orange, peach and nectarine notes lead the way, followed by lightly singed almond and warm piecrust notes. Then another wave of green fig, warmed pear and coconut takes over on the finish. Rich and honeyed in feel, with obvious power, balanced by an energy in the inner core that should help this cruise in the cellar for some time. Best from 2020 through 2050. 8,333 cases made.