Produttori del Barbaresco Barbaresco 2015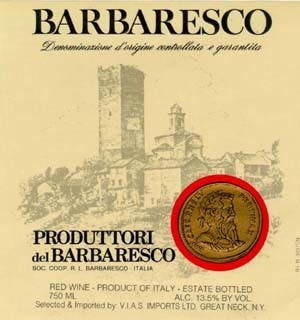 Winemaker Gianni Testa produces this classic example of Barbaresco from 100% Nebbiolo blended from a group of family farms in the region. Aged for 18 months in large oak casks, this wine is ideal to serve with rich pasta dishes, red meats, game and aged cheeses. We are always so impressed with the price/quality ratio of this wine. Look for an expressive nose bursting with ripe fruits and spices, this wine is rich and sultry in the mouth with a long, textured finish.
Wine Advocate
reports: 'Produttori del Barbaresco is like that long-lost friend who always picks up a lively conversation no matter how many years have passed since your last meeting. It's the ultimate fallback wine: it's never intimidating or awkward. It's always a pleasure to drink...'
Wine AdvocateThe 2015 vintage opens to a visibly darker color and thicker concentration compared to recent past vintages. Next to the upcoming 2016 and 2017 editions, we can expect 2015 to be the most fruit-forward of the three. You get dark tones of plum and blackberry with dry tannins at the rear. Drink 2020-2038.