R.O.Q. Corporation R-Oh* Montsant 2015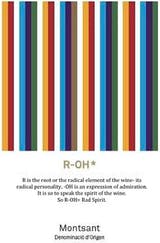 This is a very cool wine from Spain, made from very old vines of Garnacha & Carignan. The name R-OH* means 'Radical Spirit Earthy & Elegant' to its makers, and we just love the rich, sultry taste of it. Made from dry-farmed bush vines planted in the D.O. of Montsant, in Catalonia, the northeast corner of Spain (not too far west of Barcelona), Montsant is technically part of the greater Priorat region, and surrounds the specific land designated as Priorat. Although geographically 'together', each of the two regions have their own individual styles due to their soils. The soil in Priorat consists of layers upon layers of slate, whereas in the Montsant, the soil types vary. There are limestone, red clay, stone, and some of the same slate that's in the Priorat, but only in a few areas of the region. The main grapes in both areas are Garnacha, Carignane, and Garnacha Blanc. This delicious wine is from a tiny vineyard (less than one acre) planted on a steep hillside, located in Cornudella de Monstand, the highest and coolest subregion of Monstant. The soil is covered with red clay strewn with licorella (slate) and codolls (round river stones). Classic food pairings would be beef, lamb, pork, sausages and porcini mushrooms..

The grapes for R-OH* are hand harvested in early September from dry-farmed bush vines more than 60 years old, and then the grapes are strictly sorted for even more perfection of fruit. A blend of 60% Garnacha and 40% Mazuela (Carignan), the wine was fermented in concrete vats and aged 4 months and then in 2 year old American oak. Only 1000 cases produced.
Bottle ShopThis old vine Spanish red is rich, deep and powerful, both on the nose and on the palate, We found black fruits, pomegranate, licorice, spices, minerals and purple flowers in this round, ripe, rich red that also manages to be fresh and balanced at the same time. It paired perfectly with short ribs and potatoes.