Kris Pinot Grigio 2018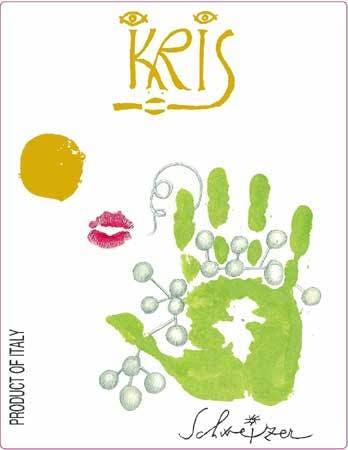 Kris wines are crafted in Alto Adige using grapes sourced from Italy's most esteemed growing regions. The winery is located in the hillside town of Montagna, where culture is a unique reflection of Germanic heritage and Italian nationality. An ideal combination of and traditional winemaking artistry and modern technology is used to blend each of the Kris wines. Art has long played a part in the labels at Kris. Contemporary Italian artist Riccardo Schweizer (1925 – 2004), who studied under Pablo Picasso and Joan Miró, designed the playful and modern Kris wine labels. Each label conveys Kris' expressive style and portrays the blending of art and science in the Kris winemaking process. The gold orb in each label depicts role of the Italian sun in ripening the grapes to perfection. The hand represents the role of the human hand in cultivating the grapes and crafting the wine. The sensual kiss mark represents the role of the lips that ultimately savor the wine. The theme of science is ever present in each of Schweizer's label designs, from the molecule-inspired grapes in the Pinot Grigio label to the DNA-inspired color strand in the Pinot Noir label.
"From the Haas family, this incredible value in dry, fresh, lively white wine has been a huge success in the U.S. ... and it's easy to understand why. A beautiful floral nose reveals hints of honeyed lemon, orange rind and pears. Crisp, light to medium-bodied, refreshing & well-made."
Wine Advocate
Wine AdvocateThis wine celebrates its 25th anniversary in this vintage, and as usual, it's a laid-back and simple white that is linear and bright. There are interesting grassy tones in the Kris 2018 Pinot Grigio with blasts of citrus. This bargain-priced screwcap bottle is a great summer picnic partner for deviled eggs or a big platter of chips and guacamole.