Fattoria del Cerro Vino Nobile di Montepulciano 2014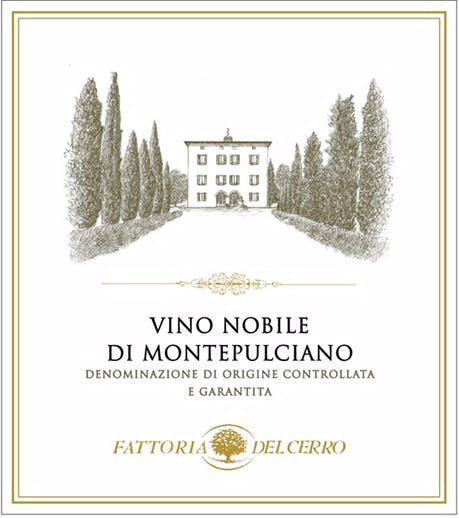 Founded in 1922, the Fattoria del Cerro estate is a leading producer of Vino Nobile di Montepulciano. The area of Montepulciano stands at a high elevation in the southern part of the Chiana Valley in the province of Siena in Tuscany. An ancient legend has it that Montepulciano was founded at the orders of the Etruscan King Porsenna. From its earliest origins, Montepulciano was linked with wine, as is indicated by a red-figure cylix (wine goblet) that was made in the Chiusi area. The soils of the del Cerro estate are of Pliocene origin, mostly clay with stones and shells. Made of 90% Prugnolo Gentile (also known as Sangiovese), 5% Colorino and 5% Mammolo that spent 18 months in 70% large Slavonian casks and 30% in smaller French oak barrique, this has medium-full-bodied flavors with red and black fruits, sweet notes of tobacco and minerals on the finish. This is hearty but smooth, especially with food.
Wine Advocate
reports: 'Consulting oenologist Riccardo Cotarella is now the man in charge at Fattoria del Cerro and all of the SAI Agricola properties, which includes La Poderina in Montalcino. The quality of the fruit of the entry-level wines suggests the raw materials are first-rate.'
James SucklingA layered and ripe red with plum and chocolate character. Medium body, soft and velvety tannins and a delicious finish.