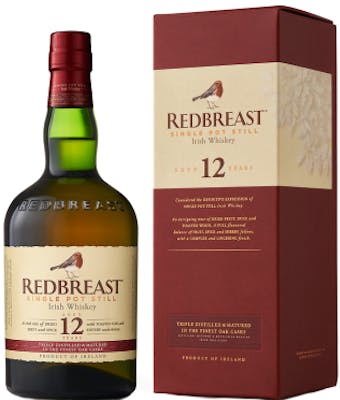 SKU: 13056
Redbreast Single Pot Still Irish Whiskey 12 year old
---
---
My first induction into Redbreast was a memorable one. I was at a party, thrown by true Irish Whiskey aficionados who had a full line-up of wine & spirits. I tasted the Redbreast alongside a very popular, admittedly 'basic' Irish Whiskey (which shall remain unnamed, but you can guess!), and it was clearly no contest whatsoever. The Redbreast was smooth and subtle with a hint of sweetness while still finishing dry. The other whiskey had a harshness, and you definitely tasted the alcohol (which doesn't appeal to me).

Unique among whiskeys, Redbreast is a 'Single' unblended, pure pot still Irish whiskey which has been triple distilled in oak casks for not less than twelve years. This uncompromising dedication to authenticity and quality gives Redbreast a traditional smooth mellow character and a taste which is full flavoured and assertive but not over-robust.
Apparently being distilled in the pots is an old fashioned traditional practice which produces a whiskey of exceptional quality. I just know that I loved the taste. Pure, smooth & delicious! A great gift for your favorite Irishman or woman, or if you are the Irish one, give a little piece of your history - it will be a well savored bottle.
From county Cork comes this bartender favorite. Look for a vibrant golden color and enticing honeysuckle and buttery brioche aroma. This whiskey feels soft and sets the mouth watering with lightly smoky notes tapering off to jazzy layers of honey, dried fruit, cinnamon and ginger.
wa

91

Wine Advocate

ws

91

Wine Spectator

st

91

International Wine Cellar