E. Guigal Côtes du Rhône 2016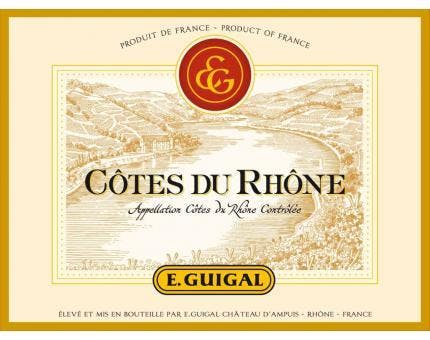 Guigal's Côtes du Rhône rouge is considered a benchmark for the appellation. The Guigals select and blend cuvées from over 40 top growers, and their talent lies in the rigorous and exhaustive tasting they carry out to make the final blend. Ultimately they will select only 1% of all wines they taste for their Côtes du Rhône. Since the 1998 vintage this wine has been based on Syrah, a Northern Rhône approach to a wine that is almost always Grenache-based. Since they produce some of the most important Syrah-based wines in the northern Rhône, their method is quite natural. This focus on Syrah also produces wines of greater aromatic intensity and structure, though is much more costly to produce. Complex and age-worthy, Guigal's Côtes du Rhône Rouge is an extraordinary value.
Jeb DunnuckAs with the white, the quality of the basic Côtes du Rhône is more than noteworthy, especially when you consider the quantity produced. From a great, great vintage for the Southern Rhône, the 2016 Côtes du Rhône shows an upfront, sunny style as well as Provençal notes of spiced red and black fruits, ground pepper, and garrigue. Drink this medium to full-bodied, ripe, sexy effort over the coming 4-6 years. It will evolve even longer, if you're so inclined.
VinousDeep, brilliant ruby color. Expansive dark berry, cherry, floral and spice aromas show very good clarity and pick up darker olive and licorice notes as the wine opens up. Sweet and energetic on the palate, offering juicy cherry, blackberry flavors and a spicy jolt of cracked pepper. Finishes with impressive length, sneaky tannins and a lingering suggestion of candied flowers. As usual, this bottling, which is made in massive volume and available seemingly everywhere, delivers outstanding value. The inherent elegance of the 2016 vintage comes through loud and clear. It'll age well, too, if one is so inclined.