Kendall Jackson Grand Reserve Chardonnay 2018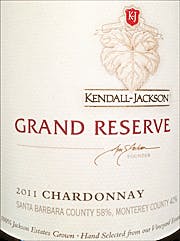 $21.99
Save $5.00 (22%)
$16.99
SKU 12700
750ml Bottle
Grand Reserve wines are crafted from 100% Jackson Estates Grown grapes which are hand-selected from the winery's vineyard estates. These wines capture the regional expression of the vineyard blocks each year. In the winery, artisan winemaking techniques prevail, and aging takes place in small French oak barrels. From California's coastal winegrowing regions, the winemaking team draws a rich palette of aromas and flavors to handcraft wines of depth and complexity. Grand Reserve wines offer rich regional expression and depth of varietal character. Kendall-Jackson draws off the top three percent of their Estate Grown barrel lots to make Grand Reserve wines. Look for r
ich, tropical flavors accompanied by clean, well-integrated acidity and finesse in this vintage.
VinousThe 2018 Chardonnay Grand Reserve is made exclusively from Santa Barbara fruit. Creamy, polished and wonderfully inviting, the 2018 has so much to offer. Bright floral accents from a touch of Musqué Clone Chardonnay add lift to this weightless, supremely expressive cool-climate Chardonnay.
Wine AdvocateThe 2018 Chardonnay Grand Reserve offers pure aromas of baked apples, poached pears, toast, a hint of gunflint and white peaches with floral perfume. The palate is medium-bodied, silky and intense with toasty fruits, juicy acidity and a long, savory-laced finish. This is expertly made, delicious and a great value!
Jeb DunnuckJust slightly more expensive, the 2018 Chardonnay Grand Reserve comes all from Santa Barbara County (Los Alamos and Santa Maria) and was basically all barrel fermented and brought up in 76% French and the balance American oak barrels. More Meyer lemon, orange blossom, and honeysuckle notes emerge from the glass, and it has a rich, textured, yet balanced mouthfeel as well as a clean finish. It's another high quality, rock-solid effort from this estate.
Wine EnthusiastOpulent aromas of butter cream, orange rind and lime balm show on the nose of this widely available and ever-popular bottling. Roasted apples, clove and more baking-spice flavors arise on the smoothed-out palate.