Luciano Sandrone Barolo Aleste 2016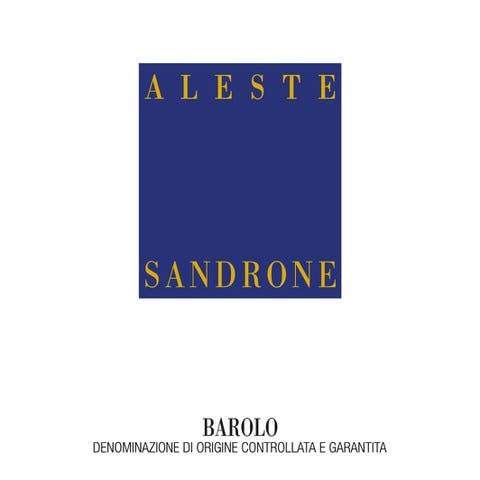 $249.00
Save $50.00 (20%)
$199.00
SKU 12288
750ml Bottle
A combination of the names of Luciano Sandrone's grandchildren ALEssia and STEfano, ALESTE is the new name for Luciano's first wine, the Barolo Cannubi Boschis, which has garnered heady acclaim in both the international trade and press. This single-vineyard wine is dense and concentrated, yet incredibly harmonious and balanced. The Cannubi Boschis vineyard is one of the greatest cru's in Barolo, synonymous with richness and complexity, in a specific sub-section of the Cannubi hill. Cannubi extends north from the village of Barolo and has been planted to Nebbiolo on its south and east exposures for at least a century. It runs approximately southwest-northeast and is entirely inside the commune of Barolo, from which it displays the characteristics of wines from this village: profound aromatic complexity and comparatively softer tannins in relation to vines grown in Monforte or Serralunga. The "Boschis" subzone of the Cannubi (also known, historically, as Monghisolfo) is near the northern end of the hill, and is located directly across the little valley from the Sandrone winery building. The Cannubi Boschis subzone has a particularly good exposure to the south and southeast in a small bowl or "conca" that helps hold the warmth in the early morning. Its soils are sea deposits of calcareous clay, not very deep, with good drainage.
Luciano Sandrone is one of the most iconic producers in Barolo, with an extraordinary story. In the bottle, Sandrone's wines straddle the modern and traditional styles of the region: elegant, attractive and easy to appreciate in their youth, but with no less power and structure over time than traditional Barolos. Luciano started to learn viticulture at the age of 14 or 15, and after years of work as a cellarman he depleted his life savings and purchased his first vineyard on the Cannubi hill in 1977, though he could only manage his land on the weekends while he continued to work outside of the vineyard. He made his first vintage in 1978, in the garage of his parents, and then spent years refining his ideas about how to make a wine of distinction and utmost quality that respected the traditions of Barolo while incorporating new ideas and understanding about viticulture and vinification. He made every vintage until 1999 at home, until the winery he constructed in 1998 was ready for use.
The new winery, built at the foot of the steep Cannubi hillside in the heart of the Barolo district, is characterized by the respect for tradition and desire for innovation that also define Sandrone wines. Luciano has devoted every fiber of his being towards cultivating the finest Nebbiolo expressions from his sites in Barolo and the Roero, and transmitting these expressions through his wines. Along with the extremely low yields in the vineyard and an obsessive attention to training, pruning and harvesting, Sandrone has a very rational approach in the cellar. This approach, however, is also unique and outside of simple classification: Sandrone subjects his wines to medium-length maceration period, shorter than traditional, but makes limited use of new oak in the maturation process, which takes place in 500 liter tonneaux, all signs of a more traditional approach in the cellar. The entire range of wines, all limited in production, are jewels of impeccably balanced concentration and precision, and the ability to age for long periods of time.

'Extraordinary producers of Barolo, Luciano Sandrone and his wife worked at Marchesi di Barolo before acquiring a tiny plot of land outside their native village of Barolo in 1977. Theirs quickly became a cult wine, first with their 1982 and 1985 vintages. Then they made a wine that merited one of the first perfect scores I ever gave a Barolo, the 1990. There is attention to detail in the vineyard and in the winery at every level, and the results are wines that are hybrid creations, paying respect to both progressives and traditionalists.' Robert Parker, The World's Greatest Wine Estates

'Luciano Sandrone's wines have never been more elegant than they are today. The French oak is increasingly well balanced, and the at times excessive heaviness of some prior vintages is long gone. Simply put, Luciano Sandrone is at the top of his game.' Antonio Galloni, Wine Advocate
Wine AdvocateThe Luciano Sandrone 2016 Barolo Aleste is a very special wine for several reasons. First, we get that exceedingly smooth and seamless quality that we saw in many of the other new releases in this portfolio. This trait sums up the house style. Second, this vintage delivers impeccable intensity that transcends the various fruit, spice, earthy and ethereal components of the bouquet. That equal intensity spread across all parts of the wine is what creates those beautiful transitions. The wine is layered and rich in terms of mouthfeel with a long, fruit and spice-driven finish. The tannins are tucked in at the back, surrounded amply by the wine's textural richness and fruit weight.
VinousThe 2016 Barolo Aleste is ample, creamy and expansive in feel. But more than that, the 2016 stands out for its freshness, persistence and brilliance. In so many vintages, the Aleste (formerly known as Cannubi Boschis) has been rich and powerful in feel, but in 2016, the wine is all about finesse. The red-fruited, floral purity of Nebbiolo comes through beautifully here; I especially admire the wine's translucence. Wow.
Wine EnthusiastDark berry, exotic spice, blue-flower and menthol aromas take shape on this fragrant red. Full bodied and loaded with finesse, the firm palate doles out juicy morello cherry, raspberry compote, licorice and hints of French oak alongside firm fine-grained tannins. Drink 2024-2036.