Tenuta San Guido Sassicaia 2015
d

98

js

98

ws

97

we

97

wa

97

v

95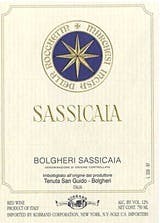 Unavailable
We're sorry, but this product is not currently available.
Wine Spectators number 1 wine of the year 2018!
'Italy's most iconic wine estate – Tenuta San Guido - the ground zero for all fine wine made in the country today – has entered an exciting new chapter with a renewed sense of purpose. This change was not sparked by any single event, rather a confluence of events starting with a fortuitous string of great vintages. Driving his Jeep through his vineyards, with all those little Jack Russell heads straining through the open windows, Marchese Nicolo Incisa della Rocchetta has good reason to smile. Much of coastal Tuscany once served as a giant hunting reserve for Florentine nobility.' Wine Advocate

The legacy of Sassicaia began in 1944, when Mario Incisa acquired Cabernet Sauvignon and Cabernet Franc vine cuttings from France and planted them on a sloping hillside of the San Guido estate. Years later, Sassicaia was officially born. Since the late 1960s, the Sassicaia name has represented a standard of quality that is without compromise. This rich and ageworthy blend consists of 85-90% Cabernet Sauvignon and 10-15% Cabernet Franc. The grapes are hand picked, destemmed, crushed and fermentation is set off by natural yeasts in stainless steel tanks. Aging ultimately takes place in 225-litre French oak barriques, approximately 30% new, for 18-22 months depending on vintage.
DecanterDecanter: "This is certainly an exceptional Sassicaia, with a sumptuous nose of ripe, creamy black and red fruit with cedar and spice notes. The colour is by no means dark (as is often the case with Sassicaia), and the impression on the palate is one of controlled power underpinned by gorgeous sweetness and flowing elegance. This is a very confident wine with real authority and presence, beginning with a magnificent attack of rich cassis and ripe griotte cherry followed by cigar box and leather notes, and a long finish of savoury bay leaf and minerals. It's deceptively structured, the tannins wonderfully ripe, creamy and finely textured, while the juicy acidity also suggests that this wine has a very long life ahead of it. This 2015 exhibits everything that you'd want from Sassicaia - and more - because of its winning combination of winemaking savoir-faire, world-class terroir, old vine fruit, and an outstanding vintage. It is unarguably stunning." 2/18
James Suckling"Love the aromas to this young red with blackcurrants, sage, cinnamon and five-spice character. Changes all the time. Full-bodied, dense and powerful with a ripe and rich tannin backbone that gives form and beauty to the ripe and beautiful fruit. Tight and very long. Approachable now but will reward more in five to six years. A classic Sassicaia." 1/18
Wine SpectatorRich and concentrated, this red features black currant, blackberry, violet, mineral and spice flavors. Dense yet lively, structured yet impeccably balanced, with vibrant acidity driving the long, fruit-filled aftertaste. The oak is beautifully integrated. Cabernet Sauvignon and Cabernet Franc. Best from 2023 through 2042.
Wine EnthusiastThis iconic wine's blackberry, cedar and vanilla aromas fill the glass. The elegant, structured palate delivers juicy black currant, black cherry, exotic spice, crushed herb and menthol flavors alongside taut, fine-grained tannins. It boasts a fantastic combination of delicious, ripe fruits, balanced by remarkable freshness and agility for the hot vintage. Drink 2022-2035.
Wine AdvocateHaving followed this wine's evolution in barrel for the past few years, it is an honor to evaluate the final product. This Sassicaia has blossomed since my previous encounters with it as a young, awkward adolescent. The long-awaited 2015 Bolgheri Sassicaia represents a tremendous effort that comes together with seamless precision and focus. This is a confident and proud red wine from Tuscany. Starting with the primary material at hand, you sense the quality of fruit thanks to the wine's beautifully dark appearance and the rich texture it offers to the palate. The acidity is integrated, but more freshness still would have been welcomed in my view (and would also contribute to its longevity). The bouquet is amplified both in terms of volume and length. Its playlist includes dark berry fruit, spice, leather, licorice and roasted coffee bean. Yet, the mouthfeel is extremely graceful and silky. The wine's undisputed pedigree is showcased on the palate. It should also be noted that this edition of Sassicaia feels more ready and open to me. It will age and evolve beautifully, but the 2015 Sassicaia can also be enjoyed in the medium-term. This wine is all about the here and now.
Vinous"The 2015 Sassicaia is powerful and dense in the glass, with a level of concentration that is unusual. In most vintages, Sassicaia is a wine of restraint. Although the 2015 is by no means overdone, it exudes richness and textural resonance in all of its dimensions. A rush of black cherry, mocha, grilled herbs, menthol, licorice and underbrush builds as this powerful, creamy wine shows off its muscle....There is plenty to like in these current releases from Tenuta San Guido, including a stellar edition of the flagship Sassicaia. The 2015 is rich and sumptuous in feel, while retaining the super-classic, mid-weight sense of structure that is such a signature of this vintage in Bolgheri."