Famiglia Castellani Chianti Classico Riserva 2015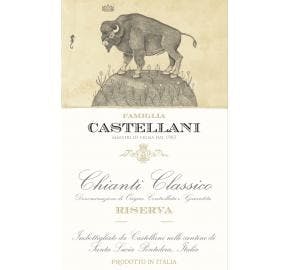 What an incredible value for authentic Riserva Chianti Classico! This wine from the Castellani family is made of mostly Sangiovese with hints of local grapes, and has red and black fruit flavors with nuances of leather, earth, licorice and sage. Flavorful and delicious on its own, it is even lovelier with a pasta dinner or dried salami, assorted cheeses, oven roasted tomatoes and spiced olives. Bring to your favorite local Italian BYO and Buon Appetito! For local shoppers, this Chianti comes in a wood box, making a stunning gift case for under $200. The historic Chianti Classico region of Tuscany has been producing wines since the 13th century.
James SucklingA plummy Chianti Classico that also shows plenty of brambleberries and dark cherries. Chocolate and hazelnut undertones. Full-bodied with some good structure on the palate and a chewy finish.