Cantina Zaccagnini Montepulciano d'Abruzzo 2018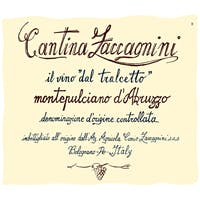 The farmstead of Zaccagnini was founded in 1978 as a family-run winery, and today produces about 500,000 bottles per year from 100% handpicked grapes. Montepulciano d'Abruzzo was designated as a DOC in 1968. It covers most of Abruzzo ranging from Molise in the south, the Marche in the north and inland against the Apennines Mountains. The wines are at least 85% Montepulciano with Sangiovese permitted, but not required, at up to 15%.

Cantina Zaccagnini is made of 100% Montepulciano and was aged traditionally in Slavonic oak. The Riservas of the region must be aged a minimum of two years before release, with at least 6 months of that in wood. The Montepulciano grape grows well and easily in Abruzzo. It is plump with high amounts of juice. It has lower acidity (especially for an Italian variety) and mild sweeter tannins. The resulting wines tend to be softer and more accessible than Chianti or Nebbiolo for example. Accordingly, the young wines are nice pleasurable reds that go as well with food as without it. At the same time, Montepulciano d'Abruzzo can age well especially in the hands of the right producers. Abruzzo is known for its pork products and lamb dishes. Both are excellent serving ideas with Montepulciano d'Abruzzo. Hot and spicy peppers are also used heavily in the local cuisine, as well as pasta in red sauce.