Michele Chiarlo Moscato d'Asti Nivole 2019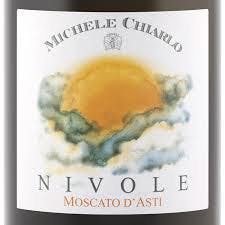 Exuberant aromas of tropical fruit and honeysuckle blossoms mark this fresh, lightly sparkling wine and carry into a palate of ripe melon and mango flavors finishing on a delicate sweet note underscored by bright acidity. The wine producing firm of Michele Chiarlo was founded in 1956 by the sole and present owners, Michele and Giuseppina Chiarlo. From a family of wine growers for over seven generations, Mr. Chiarlo is today one of the most respected producers of the fine wines of Piedmont and a leading figure in its viticultural industry.
Wine AdvocateHere's a bright and luminous semi-sparkling dessert wine to pair with panna cotta topped with fresh raspberries and blueberries. The Michele Chiarlo 2019 Moscato d'Asti Nivole (in a screw cap bottle) shows pretty aromas of honey, peach blossom, tropical fruit and star jasmine. The wine is thin and compact with a thick load of sweet foam and mousse.