Chateau Laulerie Bergerac Sec 2017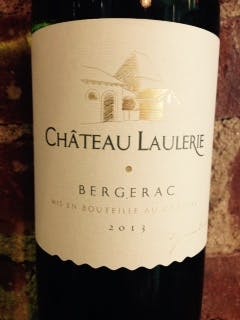 Unavailable
We're sorry, but this product is not currently available.
Made of a blend of 80% Sauvignon Blanc and 20% Semillon, this delicious unoaked white from the French region of Bergerac was made from vines averaging 25 years old. We found ripe lime zest, exotic fruits and peaches in the nose with more of the same in the clean, dry, refreshing mouth. Serve with fresh seafood and vegetable dishes or as a delightful aperitif.
The region of Bergerac is located in Southwestern France, just to the east of Bordeaux, along the Dordogne River. Bergerac has long been overshadowed by its more famous neighbor, but recently the region has been receiving a good deal of attention due to the region's conversion to modern winemaking techniques and an overall leap in quality levels. Monsieur Dubard, the proprietor of Chateau Laulerie, exemplifies this in his traditional approach to grape growing and his modern approach to winemaking, using pneumatic presses and barrique aging.
The Dubard family settled down as winemakers in the Bergerac region in the late '70s. Their vines are situated on calcareous-clayish hillsides overlooking the right bank of the river Dordogne. With excellent South South-West exposure and a trellising system adapted to the spacing between rows, the grapes achieve maximum ripeness. Integrated farming techniques, including grass between vines, is environmentally responsible and helps to maintain the character of the
terroir
. It also guarantees a healthy crop, and by extension a better wine.