Tenuta delle Terre Nere Etna Calderara Sottana 2016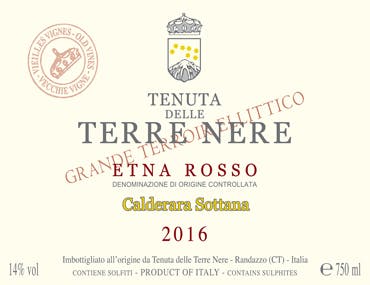 $59.99
Save $10.00 (16%)
$49.99
SKU 10451
750ml
Halfway between the sea and the sky in Sicily, you'll find Marco de Grazia's Mount Etna estate, Tenuta delle Terre Nere. The estate is located in the northern slopes of the volcano, with vineyards between the village of Solicchiata and the town of Randazzo, the area historically recognized as the finest in the appellation for fine red wines.
This wine is made with 100 % Nerello Mascalese. The Calderara Cru is composed of two vineyards, totaling roughly 15 hectares, at an altitude of 650-700 meters. A small portion of Calderara is pre-phylloxera, the remainder is 40-50 years old. The soil is extremely rocky volcanic ash overrun by black pumice and solid volcanic rock. Alcoholic fermentation and maceration lasts 10 to 15 days; malolactic fermentation and maturation are carried out in oak. After 18 months the wine is bottled without filtering.
'Hard as it is to believe, proprietor Marc de Grazia continues to ratchet up the quality at Tenuta delle Terre Nere, his property on Mount Etna. Simply put, these are the most brilliant wines I have ever tasted from de Grazia.' Wine Advocate
Wine AdvocateTenuta delle Terre Nere selected three single-vineyard wines that it classifies as Grande Terroir Ellittico; the 2016 Etna Rosso Calderara Sottana is one of those three wines. The wine does indeed show a higher level of complexity and increased depth that is especially apparent in the mouth. The wine has a firm tannin backbone that bodes very well for its future evolution. This is a crisp, sharp and structured Etna red wine. Nerello Mascalese is blended with 2% Nerello Cappuccio. Some 14,000 bottles were made.