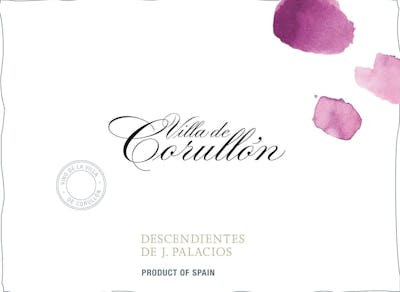 SKU: 07001
Descendientes de J. Palacios Corullon Bierzo 2020
---
---
Bierzo is a Spanish Denominación de Origen Protegida (DOP) for wines located in the northwest of the province of León (Castile and León, Spain). The area consists of numerous small valleys in the mountainous part (Alto Bierzo) and of a wide, flat plain (Bajo Bierzo). The DO covers 23 municipalities including the largest town of the area, Ponferrada (population about 70,000). The first written reference to the Bierzo region, whose name derives from the pre-Roman city of Bergidum, is from Pliny the Elder. The Romans developed agriculture, introduced new crops including Vitis vinifera vines, and new technology such as the Roman plough. However, the greatest expansion of viticulture was related to the growth of the monasteries, especially the Cistercian order, during the Middle Ages. After centuries of production and after having achieved a good reputation in the markets of Galicia and Asturias, the Bierzo vineyards suffered a terrible blow in the 19th century when the phylloxera plague practically wiped them out. There was a severe economic crisis which forced many people to emigrate. Production was slowly re-established thanks to the technique of grafting onto new world rootstocks and wine production gradually recovered to assume the significant economic role it had played in the past. In 1989 the Bierzo Denominación de Origen was officially recognized.
During the late 1980's, Alvaro Palacios travelled his native Spain selling French barriques to winemakers. But his journeys had a second purpose: to find the best place to achieve his goal of making Spain's greatest wine. In 1990, he settled on Priorat, where he would achieve worldwide fame with "L'Ermita" and "Finca Dofí." But there had been a close contender: Bierzo. It had all the ingredients Álvaro wanted—incredibly steep hillside vineyards, distinctive terroirs and, most importantly, ancient vineyards of a unique red grape variety, Mencía.
As far back as the Middle Ages, Cistercian Monks arriving from France had identified Bierzo as a special place for wine. They also saw Mencía as the variety best suited to its slate/schist soils. Mencía was so closely identified with their work that the variety itself was long thought to have French origins. While we now know that Mencía originated in Portugal, where it is known as Jaen, Álvaro and Ricardo had no doubts about the monks' wisdom in pairing the variety with this rugged land.
The idea of making great wine from old-vine Mencía never left Álvaro. And his experience in Priorat—particularly with L'Ermita—convinced him of Bierzo's enormous potential. Meanwhile, his nephew Ricardo Perez had finished enological studies in Bordeaux and was travelling across France, absorbing everything he could about great wines. He worked the harvest at Château Margaux and did an internship at Moueix, the owner of Châteaux Petrus and Trotanoy. Meanwhile, he frequently visited Álvaro, coming to share a belief in Bierzo's potential. In 1998, the two decided on a joint venture and set out in search of the region's finest old vineyards.
Álvaro and Ricardo found promising sites in a number of villages but soon came to believe that the greatest potential lay around Corullón, a small town on Bierzo's western border. Old vineyards lined the precipitous hillsides there, and the local soils were extremely poor—composed mostly of schist—but with incredible diversity. The minute variations in soils and exposures across this zone immediately reminded the two of Burgundy's Côte d'Or or Piedmont's Langhe hills.
This wine, Villa de Corullón, is built from a dizzying array of the village's top sites, and is the ultimate expression of the village's terroir. Its combination of generosity and precision makes a case not only for Corullón's special status, but also the superiority of Álvaro's and Ricardo's winemaking.
"I've said this a number of times before, but sometimes you have to repeat yourself: Descendientes de J. Palacios is the most coherent, moving, thrilling and consistent wine project in Spain. Period." - Luis Gutiérrez, The Wine Advocate
I was blown away by the 2020 wines in barrel in June 2021 and found the 2020 Villa de Corullón very ready, open, expressive, floral and ethereal. It destroyed the idea I had of a warm and ripe 2020. Ricardo Pérez Palacios told me he was thinking of bottling the 2020s earlier, as they didn't need a long élevage, just nine or 10 months in barrel. The wine is pale, the palest Corullón ever, with 13.7% alcohol-perhaps the vines got blocked and didn't develop more color compounds or sugar. The wine makes me think of a red from Jura; it has a different profile and is more delicate, ethereal and full of light and energy. Pérez, who hates comparisons with other regions, couldn't stop saying that it felt like a Morey Saint Denis! It's all flowers and red fruit, with a lot of super fine tannins (the 2019 tannins are rougher) that are round and give it a velvety texture with no rusticity-elegant and balanced. There is a nice balance between tannin and acidity, something this has in common with the 2019, which makes the vintages quite unusual, because being warm, the wines show balance. Today, it feels more like Moncerbal than the Moncerbal bottling; nevertheless, Corullón is around 40% from Moncerbal. ... It has to be my favorite Corullón to date. 22,183 bottles and some larger formats produced. It was bottled in October 2021.
wa

91

Wine Advocate

ws

91

Wine Spectator

st

91

International Wine Cellar