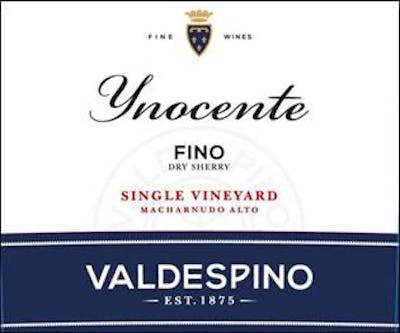 SKU: 06891
Valdespino Fino Jerez Dry Inocente
---
---
This is a 375 ml or half bottle. Luis Gutierrez at theWine Advocate raves, "I've often called Valdespino "the Romanee-Conti of Jerez." Well, there, I've said it. To me they represent quality and tradition at the very top of the Sherry hierarchy. The winery, soleras and brands are old, registered in 1875, but with documentation about their commercial and winegrowing activities going back to the 13th century. Their recent history starts in 1999, when Jose Estevez purchases the company from the Valdespino family. Today Valdespino is the jewel in the crown of the Grupo Estevez, which also includes Real Tesoro and La Guita, who stock and age 35,000 botas of Sherry and own 800 hectares of vineyards, 56 of which come from the Pago Macharnudo, on pure white albariza soil, one of the best vineyards in the Marco de Jerez, and 17 hectares from the heart of Macharnudo are still fermented in bota today and form the core of brands like Inocente, Tio Diego, CP or Cardenal. All the wines were carefully and slowly moved to the new facilities of the Grupo Estevez on the outskirts of Jerez, where they continue their development under the supervision of Eduardo Ojeda, technical director, winemaker, who as a wine-lover is very aware of his role preserving these old soleras, wines and traditions."
Pale straw color. Very delicate and sharp, with clear almonds notes and autolysis. Soft entry, round with structure, volume and character but as well fresh and saline. Long wine and persistent. Enjoy as an aperitif, while cooking, and accompanying the whole meal with it. It is ideal matching seafood and products of saline flavor and with acidity. Very interesting to observe the evolution with the years. The wine goes up in color intensity, gaining in depth and complexity, and it will remain being enjoyable during many years.
Inocente is Valdespino's flagship, a wine from the Macharnudo Alto vineyard, where the soil is pure white albariza. It ferments in 600-liter wooden casks without added yeasts, a practice that has become increasingly rare in Jerez. The intensity of the wine's salinity is remarkable - iodine and salt - coming together with ripe white fruit, scents of nuts and exotic spices. The structure is dry and austere, like drinking the juice of stones. This will last for a decade in the cellar, but it's impossible to hold onto a bottle if there's raw seafood nearby.
The NV Fino Inocente must be one of the few wines in Jerez that is still fermented in 600-liter American oak botas, which is an incredible amount of work compared with fermenting tens of thousands of kilos of grapes (or even more) in a big stainless steel tank. This method was the norm of yesteryear, but is so labor intense that it was discontinued in most wineries, and gives a big diversity of wines, as each barrel has its own character, which contributes to the complexity of the blend. Furthermore, the bottled wine is on average 8 to 10 years old. One other thing that makes it apart from other Finos is that the grapes are exclusively from the high part of the Macharnudo vineyard, so this is a single-vineyard Fino. The nose is very complex, showing the effect of the long lees contact: chalk, dried hay, aromatic herbs and salty almonds. The palate is full, but at the same time elegant and balanced, powerful and fine, with the texture of a Meursault rather than a Puligny. A very complex wine, that manages to be both powerful and elegant. Inocente is great value for money.
wa

91

Wine Advocate

ws

91

Wine Spectator

st

91

International Wine Cellar