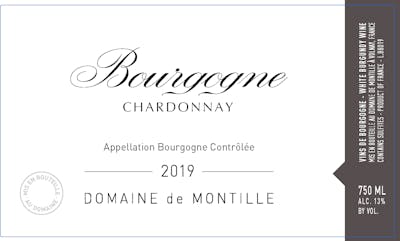 SKU: 06692
Domaine de Montille Bourgogne Blanc 2019
---
---
A very special Bourgogne Blanc made from 100% Montille estate grapes, this is from a sloping vineyard across from the village of Puligny in an area called "Bas de Corpeau". The soils in this place consist of clay and limestone, and the domaine uses certified organic and practicing biodynamic methods. Fermented in demi-muids. Regarding sulfur, whites have the following: 75-100 mg/l total SO2, 30-35 mg/l free SO2 (we are assuming these are low to very low numbers). Aged one year in demi-muids, then blended and aged another 5 months in stainless steel. Only 5300 bottles produced. A lovely Bourgogne Blanc with salinity and harmony. Very pure and elegant.
Domaine de Montille is among Burgundy's most iconic estates, with a long and fabled history dating back to 1730's. While the de Montille name is certainly synonymous with the village of Volnay where the family house still sits, the original historic estate consisted of 25 hectares spread throughout the Côte d'Or, including parcels in the famed Grand Crus of Musigny and Bonnes Mares. Unfortunately, the family had to sell off many of these parcels around the phylloxera crisis in order to survive. In fact, by the time Hubert de Montille took over in 1947, the estate was down to a mere 2.5 HA, mostly in Volnay and some in Pommard. Nonetheless, Hubert was passionate about producing wine, and although he also practiced law concurrently for almost 50 years in Dijon, he helped to put the domaine on the map and in the top echelon of Burgundy estates.
When Hubert took over in the late 1940's, more than 90% of the wine in Burgundy was sold to négociants. But he was committed to estate-bottling, and pushed for the highest level of quality and purity. The de Montille style of the "Hubert era" was one of classic, structured wines that were built to age. Although he passed away in 2014 at the age of 84, many of the great wines he made during his career continued to drink magnificently, having aged out of their youthful firmness to blossom into the stuff of legends…gorgeous, mature, terroir-driven Burgundies.
Hubert's son, Etienne, joined the domaine in 1983 and immediately displayed the passion and dedication he had learned from his father. By 1995, he was officially co-managing alongside his father but in charge of most of the day-to-day decisions. Like Hubert, he also had another career during this time, working in investment banking until dedicating himself full time to the domaine in 2001. One of Etienne's first decisions was to convert the estate to organic farming, starting in 1995. Ten years later, in 2005, they began implementing biodynamic techniques as well, and soon thereafter sought official organic certification, which they earned in 2012. Today, they continue to farm their entire vineyard holdings biodynamically, and like many top vignerons in the region, are committed to the long-term health of their soils and vines. In Etienne's words, "biodynamic farming requires us to be aware of the life cycle of the plants and to embrace energies we cannot explain. We employ biodynamic techniques as a way to support and stimulate the vines, but organic farming is the foundation of what we do."
In addition to his commitment to natural viticulture, one of Etienne's greatest contributions has been the expansion of the de Montille holdings to include some of the Cote d'Or's greatest terroirs. Over the years, by means of careful acquisitions, the domaine acquired prime vineyards up and down the Côte, with the highlights being the acquisition of fine parcels such as Puligny Cailleret in 1993, Corton Charlemagne in 2004, and parts of the Thomas-Moillard estate in 2005 (with Domaine Dujac) – including parcels in Vosne-Romanee Les Malconsorts, Clos de Vougeot, Corton Clos du Roi, Beaune Grèves and more. In addition, some of their holdings, particularly on the white wine side, came from the Chateau de Puligny Montrachet which Etienne started managing (and resurrecting) in 2001. He later purchased the Chateau de Puligny in 2012, and continued to market the wines under that name until the 2017 vintage when they were folded into the Domaine de Montille roster. These 14 HA of prime vineyards include top 1er and Grand Cru vineyards including Chevalier-Montrachet, Puligny Folatières and Chalumeaux, Meursault Perrières and Poruzots, and Saint Aubin En Remilly. Though perhaps the "hidden gem" in the line-up is actually the Bourgogne Blanc from the "Clos du Chateau" [de Puligny]. This 5 Ha plot sits in front of the Chateau itself, and the wine could easily be mistaken for a Puligny itself.
Today, the domaine's holdings total 35 HA, of which 20 HA are in 1er and Grand Cru vineyards, combined with 5 HA of top village wines, and 10 HA of Bourgogne Rouge and Blanc. Among their premier crus are a small handful of top terroirs -- Grèves, Taillepieds, Rugiens-Bas, and Cailleret -- deemed by Etienne (and many others) to be "Grand Premier Crus" and he makes this clear by listing the vineyard name above the appellation/village on these labels. The estate holdings are also supplemented by petit négociant activity started in 2003. Originally called DEuxMontilles, it is now known as Maison de Montille. The goal of the project is to isolate small, interesting and somewhat undervalued terroirs from throughout the entire Burgundy region, in fact, all the way from Chablis in the north down to Pouilly-Fuissé in the south. The wines are produced with the same care and attention as the Domaine wines, and reflect the same stylistic preferences of all the other wines.
The winemaking at de Montille has evolved over the years, and the resulting wines are certainly much less austere in their youth than in the Hubert era. Nonetheless, these are wines that are fresh and elegant, but also terroir-inflected and built to age. In general, there are no "winemaking recipes", so each vintage receives its own regimen that corresponds to that vintage's conditions. On the red side, that usually means a good dose of whole cluster, often 50-100%, though occasionally some wines are de-stemmed in certain vintages where it is deemed appropriate and preferable. Macerations are 12 to 16 days, with pigeages usually twice a day (versus 6-8 times a day in the Hubert era!) and new wood is kept to a minimum, usually 30% new oak or less, except for the very top cuvées that can receive up to 40-50% in the best vintages. On the white side, grapes tend to be picked on the early side for energy and freshness, and then are often aged in a mix of 228 and 600-liter barrels (with little or no batonnage) to give the wines both focus and delineation as well as texture and mid-palate. Again, new oak is judicious, usually no more than 20-25%. As is common for many top white wine domaines these days, the wines are aged on their lees in wood for 11-12 months, and then held in tank for 5-6 months to come together and gain focus before bottling.
Domaine de Montille is one of the rare Burgundy estates that excels in both reds and whites, as well as both Cote de Beaune and Cote de Nuits, not to mention all the rest of Burgundy with the Maison de Montille project. The evolution of the winery from the 2.5 HA it was when Hubert took over to the breadth and scope of the winery today is one of the great accomplishments in the recent history of this famed region. It couldn't have been achieved save for the hard work and visionary talents of Etienne de Montille who has ushered this estate to the top echelons of today.
The 2019 Bourgogne Chardonnay bursts with aromas of pear, white flowers, citrus pith and blanched almonds, followed by a medium-bodied, ample and fleshy palate that's lively and open-knit, concluding with a saline finish. As usual, it's declassified Montagny.
wa

91

Wine Advocate

ws

91

Wine Spectator

st

91

International Wine Cellar