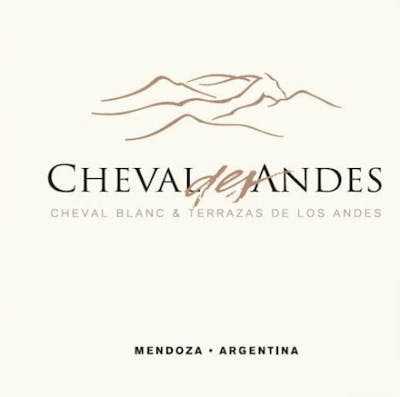 SKU: 06585
Cheval des Andes Red 2018
---
$124.99
Save $25.00 (20%)
$99.99
---
Cheval des Andes was founded as a union between the esteemed Château Cheval Blanc, Premier Grand Cru Classé of Saint-Émilion, Bordeaux, and Terrazas de los Andes, a pioneer of cool-climate, high altitude winemaking in Argentina. Distinguished by its freshness, elegance and exceptional aging potential, Cheval des Andes is the 'Grand Cru of the Andes'. Creator Pierre Lurton (president of both Château Cheval Blanc and Cheval des Andes) has been enthused since the inception to follow the original Malbec vines from Bordeaux all the way to Argentina.

Over 100 years ago, Malbec was widely cultivated in Bordeaux and was brought to Argentina in the mid-19th century. Then a few decades later, the Malbec grape was almost completely decimated in France by the phylloxera epidemic. Today, the only Malbec that exists in Bordeaux has grafted roots, which make it more resistant to the disease but local Bordelais now use it less often, and as a blending grapes. When Pierre Lurton discovered the stunning Malbec vineyard of ungrafted vines of Las Compuertas, planted in Mendoza in 1929, he was immediately captivated, declaring, "This will be a journey to the roots of Bordeaux." He wanted to bring yesterday's Bordeaux wines back to life, reconnecting Château Cheval Blanc with the history of Saint-Emilion.
In 1999, Château Cheval Blanc started a joint venture with Terrazas de Los Andes and Cheval des Andes was born. Since then, a predominantly Malbec, Bordeaux-style blend has become the signature of Cheval des Andes. The wine of Cheval des Andes combines the vibrant and intense expression of Argentinian Malbec with the rigor, elegance and savoir-faire of a great Bordeaux. It is a unique blend of Malbec grapes and Bordeaux varietals – an ensemble with the exuberance of Malbec balanced by the temperance of Cabernet Sauvignon, completed with hints of Petit Verdot. Cheval des Andes makes wines that age gracefully and "travel through the decades," according to Pierre Lurton. These wines are elegant, meaning they are the most refined expression of the terroir of Mendoza. On the nose, they are complex rather than intense and on the palate, they are balanced rather than powerful.
The 2018 Cheval des Andes is a blend of 70% Malbec and 30% Cabernet Sauvignon fermented in small lots in 3,000- to 8,000-liter tanks and matured 40% in 225-liter oak barrels, 40% in 400-liter oak barrels and the remaining 20% in 2,500-liter oak vats for 13 months. Ninety percent of the oak used was French and the rest a blend of Austrian, Slovenian and German oak, 50% of it new. 2018 has been one of the best vintages in recent times in Mendoza, and the wine shows it. It's a cooler vintage, and the wine has improved in freshness and elegance without losing any clout. It's 14.5% alcohol and has a pH of 3.73. This is young, juicy, elegant and balanced and still has some herbal and toasted notes; it's medium to full-bodied, with the creamy and luxurious texture of the modern Bordeaux, ultra fine tannins and a long, dry and precise finish. It's still undeveloped and seems to have all the components and the balance between them for a long and positive development in bottle. With wines like this, I sometimes wish I had a time machine so I could see them in 20 years from now... I think this is the finest Cheval des Andes I've ever tasted. 100,000 bottles produced. It was bottled in January 2020.
This is a plush, rich Cheval with blueberry and floral aromas and flavors. HInts of tar and fresh lavender. Full body. The depth and richness are impressive, as are the ripe yet fresh tannins. Very long and structured, yet controlled and in balance. This will be a great wine indeed. Release in September 2021. Drink after 2023
The 2018 Cheval Des Andes is a blend of 70% Malbec - half from Las Compuertas and half from Paraje Altamira - and 30% Cabernet Sauvignon from Las Compuertas. It was aged in barrels and foudres, 50% in new oak. Purplish red in the glass. It shows an expressively complex nose of plum, cherry and hints of spice, pepper, ink, blackberry, and blackcurrant. The oak provides a profound and subtle backdrop of sweet spice. In the mouth, it's viscous and broad with a little juice, velvety in texture and with very fine tannins. The finish is long-lasting with a satisfying feel. A relaxed, delicate, extremely well-balanced wine with a more generous core than the 2017 vintage.
wa

91

Wine Advocate

ws

91

Wine Spectator

st

91

International Wine Cellar