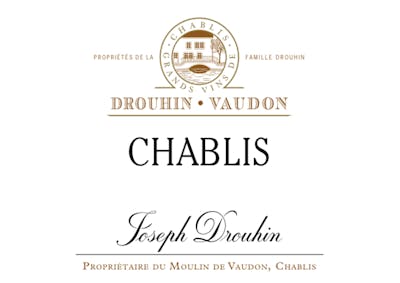 SKU: 11898
Drouhin Vaudon Chablis 2020
---
---
#10 Wine Value of the Year 2022 Wine Spectator
Robert Drouhin has been a fierce advocate and pioneer in the Chablis area of the great Burgundy region for over 40 years. In addition to the many acres the family owns for wine production, they also have long term contracts with small growers to supplement fruit for their Chablis offerings. For the last 140 years, Maison Joseph Drouhin has been in the hands of the Drouhin family. Today, the fourth generation--Robert's children--are at the helm, motivated by the same passion that inspired the founder of the company. Producing close to 90 different appellations, Joseph Drouhin offers a fascinating array of Burgundy terroirs in all their authenticity and subtle variations, accentuated by their farming and growing practices. Joseph Drouhin has adopted the organic and biodynamic approach. Only natural products are used in the vineyards and all procedures show the utmost respect for the soil, the vine and the environment.
The style of Joseph Drouhin is an alliance between character, balance and harmony. Wines meant to be drunk young are fresh and subtle; wines meant for keeping acquire with age a luscious complexity. The wines of Joseph Drouhin are found on the finest tables and wine lists in the world. This Chablis Vaudon is a dry, yet fruit-driven wine that is easy to drink and easy to love. Its color is pale gold with greenish hues. Very fresh, citric aromas reminiscent of lemon or grapefruit. Small pleasant touches of fern or coriander are found as well. On the palate, dry and fruity with mineral notes. Lovely and long finish.
Tasting note by winemaker Véronique Boss-Drouhin: A dry and fruity wine, easy to drink. Its colour is pale gold with greenish hues. Very fresh aromas reminiscent of citrus (lemon or grapefruit); small pleasant touches of fern or coriander are found as well. On the palate, dry and fruity, with mineral notes. Pleasant and long aftertaste."
A mix of estate-grown and purchased fruit, this gains its richness over the course of eight months aging on the lees in stainless steel. It's a refreshing, simple wine with classical Chablis notes of citrus and savory nuts, opening to floral earthiness that hints at freshly churned butter and bloomy-rind cheeses. Add some crusty bread and ripe Epoisses and you'd have a meal.
In the late 1960s, Robert Drouhin had the foresight to invest in Chablis, where vineyard acreage had been shrinking since the phylloxera scourge in the late 19th century. Today, Chablis offers some of the best value available when it comes to white Burgundy, featuring a unique, steely profile combined with delicate aromas and flavors typical of Chardonnay from the region's Kimmeridgian soils. Named for a mill on the property that straddles the Serein River, Drouhin Vaudon farms 94 acres in Chablis. There are two village-level bottlings: The Réserve de Vaudon is all estate grapes, thus a bit more expensive, while this Chablis is made from purchased grapes, juice and wine, keeping the price at a more reasonable level. It's fermented and aged seven to nine months (depending on the vintage) in stainless steel tanks. 19,000 cases imported.—B.S.
wa

91

Wine Advocate

ws

91

Wine Spectator

st

91

International Wine Cellar