Massolino Barolo Riserva Vigna Rionda 2014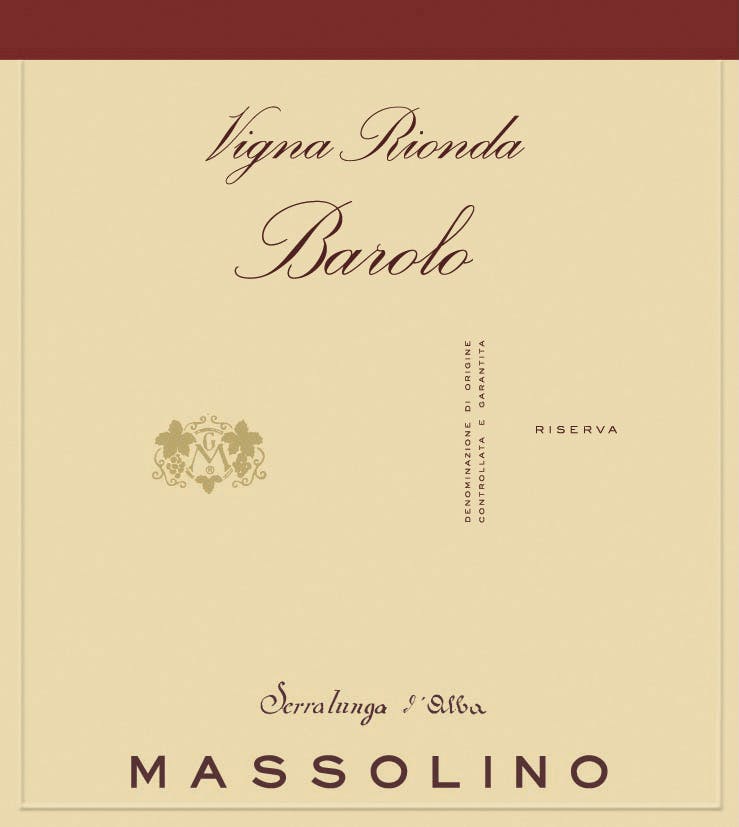 $179.99
Save $35.00 (19%)
$144.99
SKU 05930
750ml Bottle
Made from Nebbiolo grapes grown in the Vigna Rionda vineyard in Serralunga d'Alba. The soil and microclimate of this hill make it possible to obtain wines with exceptional structure and potency. Traditional vinification fully enhances the gifts of this cru, respecting the natural predisposition for long aging. Barolo Vigna Rionda expresses its best characteristics as time goes by. A complex wine, constantly in evolution, capable of guaranteeing unique sensations for refined and demanding palates.
The Massolino family has deep roots in the Langhe. Great-grandfather Giovanni Massolino founded the winery in 1896 and was the first to bring electricity and a steam-operated machine for harvesting grain to Serralunga d'Alba. Grandfather Giuseppe was one of the founders of the local winegrowers' consortium in 1934 and father Giovanni bought the first single vineyard, Parafada. Today, the estate is run by siblings Franco, Roberto and Paola.
VinousThe 2014 Barolo Riserva Vigna Rionda is a stunning wine. Sweet perfumed and deep the 2014 is off-the-charts great. Dark red and purplish berry fruit mint lavender spice and hard candy infuse the 2014 with striking layers of nuance. But what really impresses about the 2014 is its depth and huge vertical build. All the elements fall into place in a sumptuous deep Barolo that screams with character. Beams of tannin punctuate the finish. Massolino's 2014 is one of the greatest Vigna Riondas I have ever tasted.
Wine AdvocateThe Massolino 2014 Barolo Riserva Vigna Rionda is a wine that speaks of vintage as articulately as it speaks of site. The 2014 vintage is one of the most distinctive within these past two decades with a quality of fruit that is fine light ethereal and almost fragile. However Serralunga d'Alba where the Vignarionda cru is located is always characterized by extra power structure and fruit weight. In a sense this Riserva represents an intersection between those two opposites showing both elegance and muscle. The wine opens to a pretty garnet color and the aromatic intensity is well developed and capped by a mid-weight finish. Wild berry tones are followed by iron ore blood orange and camphor ash. Massolino farms 2.6 hectares within the cru with calcareous and marlstone soils. Some 8500 bottles were made and this wine will be released in September 2020. There are many great things to write about Massolino a family winery based in Serralunga d'Alba. As I reflect on these wines I am struck by the harmony and perfection of the overall portfolio: the clear identity of each product and its placement within the Massolino quality pyramid and the crescendo of wines that culminates with a truly memorable single-vineyard Baroli and the top-shelf Barolo Riserva Vigna Rionda. The portfolio has a few unexpected surprises too such as a very elegant Moscato d'Asti and a cheerful Riesling. I just learned of a new wine to join the family. Starting with the 2019 vintage Massolino will introduce a Barbaresco with a blend of fruit from three sites: Albesani Serraboella and Starderi in Treiso. A total of four hectares of vines are now under lease and Massolino set up a small winery in Alba for processing this fruit. We will see this new wine in 2022.
Wine EnthusiastUnderbrush, moist earth, leather and a whiff of menthol shape the delicate nose. The linear, youthfully austere palate shows impressive structure for the vintage, featuring juicy black cherry, spiced cranberry and licorice accompanied by tightly wound, close-grained tannins and firm acidity. Drink 2024-2034.