Bowmore Distillery Single Malt Scotch Whisky 25 year old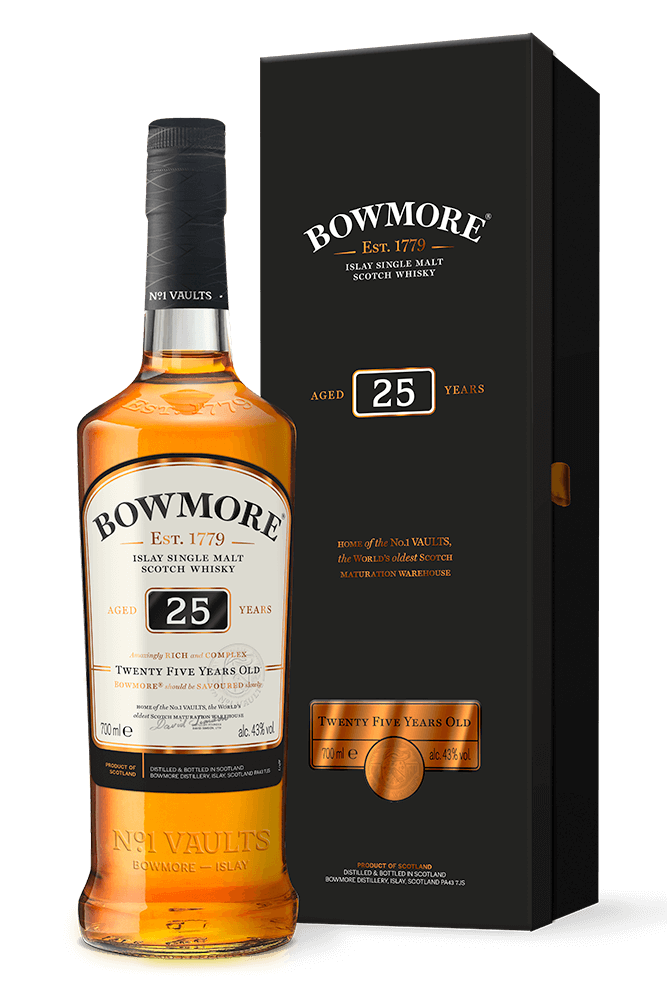 25 Year Old | 43% abv | A joyful union of delicious toffee and hazelnut, bound together by sweet peat smoke.
MATURED FOR QUARTER OF A CENTURY
A whisky to be savoured slowly, every delicious drop of this exquisitely balanced malt has been matured for a quarter of a century in North American bourbon and Spanish sherry casks. Exceptional even by Bowmore's standards, our highly acclaimed Bowmore 25 Year Old exhibits the finest qualities of each.
TASTING NOTES
On The Eye: Mellow mahogany
Breathe In: Intense sherry and stewed fruits, with a trace of Bowmore smokiness
Sip: Delicious toffee and hazelnut, woven together with just a hint of sweet peat smoke
Savour: The mellow, gentle and incredibly complex finish
Wine EnthusiastA new recipe, one that employs a higher proportion of Sherry-influenced whisky. Initial sniffings are briny, salty and cotton candy sweet; aeration adds scents of pastry, baked pear and butterscotch. Palate entry is rich, almost jammy and peppered with salty/winey flavors; midpalate explodes with deep tastes of maple, honey, brown sugar and toffee. Finish is long, nicely balanced between the sea salt and the sherry, and succulent.