Claudio Corallo Modica Citrus Chocolate Bars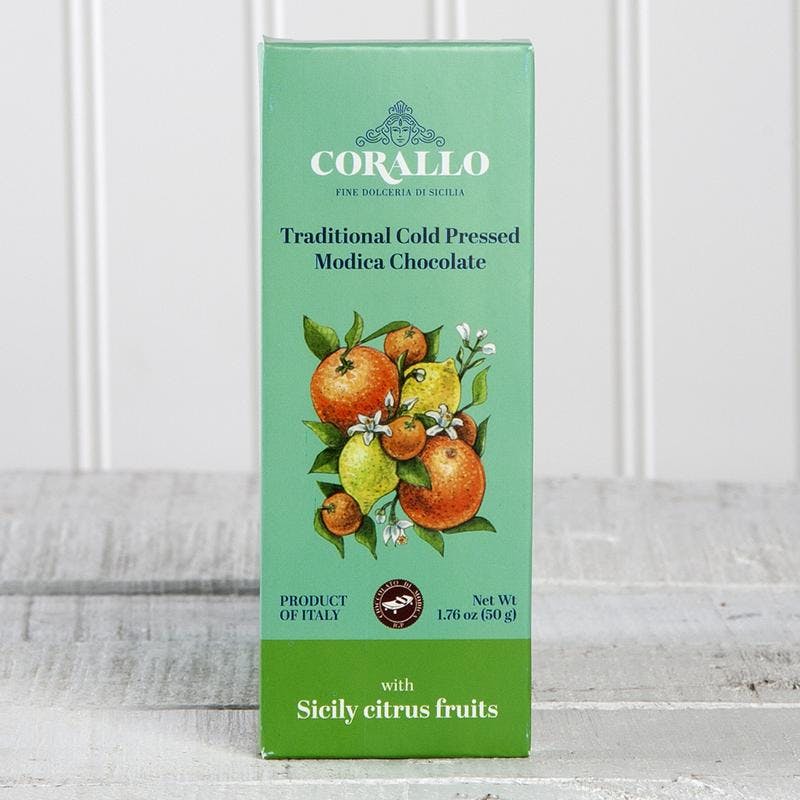 From the famous town of Modica in Sicily, Corallo traditionally produces this PGI Modica chocolate bar using an 18th-century cold milling process. This is cold pressed fine chocolate with Sicilian citrus fruits from the local Modica region.
To make the Cioccolato di Modica, or Chocolate of Modica, the cocoa beans are cold-processed in the same style as the Aztecs at the time of the Spanish conquest. The Spanish introduced xocolātl in the County of Modica from Mexico. Xocolātl was obtained by crushing the cocoa beans on a stone known as metate. This practice allows to bring out the cocoa butter and to obtain a grainy paste. The manufacturing of the chocolate of Modica never went industrial. The chocolate of Modica has an uneven brown, crumbly paste and a roasted flavor with slightly bitter nuances. It can be enjoyed in solid blocks or in dissolved in a cup of hot water to fight the winter's cold. Nowadays, the production of the Chocolate of Modica is regulated by the guidelines of the Municipal Designations of Origin – denominazioni comunali (de.co.) in Italian – which ensure and protect its territoriality. The Museum of The Chocolate of Modica opened in 2014.
There is no room for creativity when it comes to making a bar of Chocolate of Modica. Forget about modern, artistic shapes. The Modicans have used the same metallic molds for centuries. The paste is traditionally enriched with cinnamon or vanilla, although the original chilli pepper flavoring has been revived in the past few years, in addition to other aromas such as coffee, pistachio, orange and lemon.