Domaine du Colombier Chablis 2019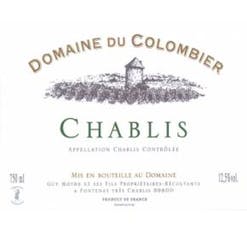 The Domaine du Colombier has been a family property since 1887, handed down over several generations. In 1957 Guy Mothe started to specialize in Chablis. Today his three sons Jean-Louis, Thierry and Vincent work the 55 hectares of vines. These vines are planted exclusively to Chardonnay, most of the vineyards are dedicated to the production of AC Chablis, though there are significant holdings in Premier Cru Fourchaume and Grand Cru Bourgros. This is a first-class source of pure, unoaked, mineral-laden AC Chablis. Serve with lighter starters or the classic burgundian escargots, with seafood, shellfish and white meat main courses or in the afternoon with light cheeses and fruits.
The winemaking is carried out with great care and attention, with the greatest of respect for the traditional Burgundian methods, allied to the advantages of modern techniques. The estate vineyards are up to 50 years old. The family farms and operates very naturally and uses organic manure, rigorous tying up, de-budding and green harvest if necessary. The Domaine started to sell in bottle in the middle of the 1980's. Today it produces 430 000 bottles of which 80% are exported.
"The wines are classic, textbook examples of their appellations and should not be missed. The fact that they can represent good value is just icing on the cake." -The Wine Advocate