Perlagrigia Fresh Cut Truffle Cheese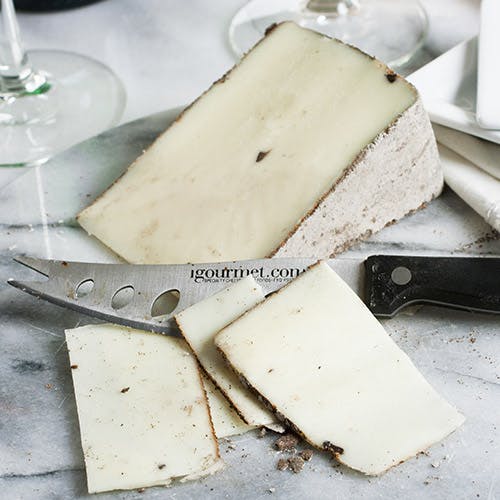 Unavailable
We're sorry, but this product is not currently available.
Hailing from Veneto, Perlagrigia (or Sottocenere) is an Italian cheese made from cow's milk and flavored with truffles and other local ingredients. Perlagrigia means "gray pearl" because this semi-soft cheese is covered with a layer of vegetable ash which is mixed with ground cloves, cinnamon, nutmeg and other locally grown spices, which give the cheese a festive flavor and keeps it from drying out. The outside is indeed edible. Additionally, this cheese is enriched with slices of highly prized black truffles. And finally, its rind is rubbed with extra virgin olive oil and natural truffle oil.
Perfect as table cheese, or combined with sun dried tomatoes as a midday treat or as a dessert course, this cheese is a special treat!
Aspect and consistency: Gray ash rind with a smooth, creamy semi-hard paste
Taste: Fresh creamy with top notes of spices and undertones of truffle earthiness
Ingredients :
Pasteurized cow's milk, culture, traditional rennet, salt, vegetable ash and spices, black truffle shavings