Nettle Meadow Honey Fig Fromage Blanc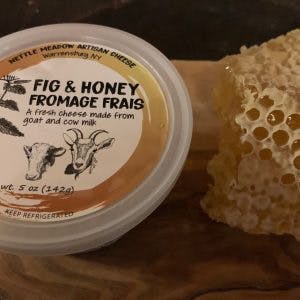 Unavailable
We're sorry, but this product is not currently available.
Hello Cheese and Fig Lovers!!! Nettle Meadow Farms Fig and Honey Fromage Blanc is a fresh mixed milk cheese made from goat and cow's milk mixed with fig and honey for a lovely addition to any fruit plate, cheese plate or dessert.
Nettle Meadow is committed to the principles of natural ingredients, happy and healthy animals, and carefully hand-crafted artisan cheeses. This Sanctuary Farm is the home to over 100 sanctuary farm animals as well as a cheese company that makes this tasty little treat. Located in Thurman, New York just below Crane Mountain in the Adirondacks between Gore Mountain/North Creek and Warrensburg, Nettle Meadow is owned and operated by Lorraine Lambiase and Sheila Flanagan. Both have a great love of animals, artisan cheese and the unique challenges of farm life. Nettle Meadow Farm was originally founded in 1990.