Muses Greek Honey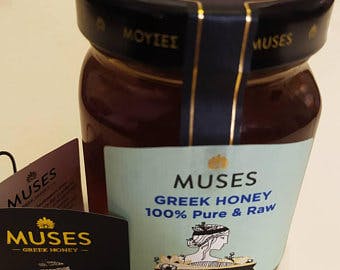 Melinda is proud to present Muses Greek Honey :: the foundation of the philosophy of the people at Melinda is their love of beekeeping and honey, the most treasured gift in nature from Greece. The continuous search for the top quality varieties of honey across Greece and the uninterrupted contact with local beekeepers allowed Melinda to gain the experience and expertise needed in order to offer Muses Honey first to the Greek public, and then beyond. They are now the #1 exporter of Greek honey in the world.
Melinda came up with the name Muses because due to its sweet taste and intoxicating power, honey was the food of the Gods and was collected from the bees, which in mythology are referred to as the "birds of the Muses". Each one of these nine mountains and water nymphs had her own distinguishing charismas, just like the varieties in Greek honey Muses.
Here we have a classic Greek honey. An ideal combination of the finest honeys from the Greek countryside. Made of wild-flower blossoms, herbs, pine and fir forests from mountainous areas of Greece, along with thyme from the Aegean islands compose the magic of Greek nature, making Muses Honey Classic unique and special.
The wild flower blossoms give a sweet taste, balanced mix of aromas and color corresponding to the blossoms' nectar. The pine gives a distinctive dark color and viscous texture. The Fir gives a distinctive red color and a special forest-tinted flavor and aroma. The Thyme gives a strong aroma and light amber color. And finally the fantastic fresh aroma and the distinctive flavor of orange blossoms rounds out this honey's sublime complexity.