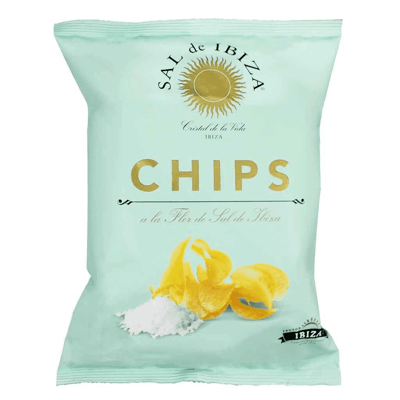 SKU: 04537
Sal de Ibiza Fleur de Sel Potato Chips
---
---
Sal de Ibiza is a line of superb table salt products, all made of 100% sea-salt of the highest possible quality. Sal de Ibiza is harvested exclusively in the nature reserve "Parque Natural de Ses Salines d'Eivissa", declared a World Heritage Site by the UNESCO in 1999. It contains no additives or preservatives, nor does it undergo any form of refinement other than slow drying under the sun and gentle grinding in ancient stone mills, enabling Sal de Ibiza to retain its more than 80 vital minerals and trace-elements. There is simply nothing added nor taken away in this product because this pure and healthy sea-salt requires nothing but sun, sea, and an ocean breeze!
The SAL de IBIZA company teamed up with the experts at Frutos Secos Ibiza to create these all-natural, delectable potato chips. Thin slices of select Agria potatoes, an aromatic, golden-colored variety, are gently simmered by hand in pure sunflower oil right until their perfect point of crunchiness, then refined with a pinch of SAL de IBIZA's exceptionally mild Fleur de Sel. No lesser salt could possibly do – they explicitly chose the precious Fleur de Sel, in order to cultivate salt's quality as a seasoning ingredient. These are obviously an ideal matching partner to an aperitif of a glass of wine, especially from Spain!, a dry sherry, a crisp european ale or lager, or with a hand crafted cocktail.
Ingredients: Selected, thinly sliced "Agria" potatoes, the finest sunflower oil, Fleur de Sel and sea salt from Ibiza.
wa

91

Wine Advocate

ws

91

Wine Spectator

st

91

International Wine Cellar