Fratelli Motta Sicilian Cannoli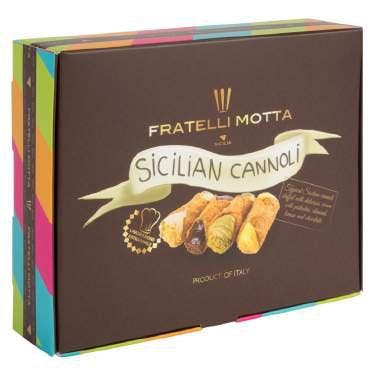 We are actually obsessed with these cannoli.... growing up eating the most delicious cannoli made in Brooklyn and Queens, with centuries-old recipes from 'the old country', we never imagined that a 'shelf-stable' cannoli would one day exist that is this delicious, this intense in flavor, this crunchy on the outside, and this creamy on the inside. But it's true!
These mini-cannoli (8 in total in the box) have 4 flavors: Pistachio, Almond, Lemon and Chocolate. There are 2 cannoli of each flavor. From the fragrant lemon groves in Sicily come the sweetest and most aromatic fruits. Every part of the fruit is used, from the juice to the flesh and naturally the very fragrant and delicious peels for the lemon cream. Sicily is also known for its amazing nuts, so the pistachios and almonds are the freshest, most delicious, to create the cream inside the cannoli. And finally the chocolate cream is so intense and rich, it is so good!