Selezione Tartufi Truffle Sauce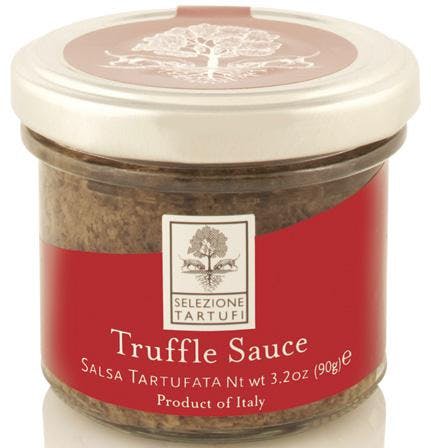 This delicious, aromatic Truffle Sauce is wonderful chef's tool for imparting truffle flavor and texture to a dish. Made with Tuber Aestuvum truffles, Champignons and black olives, this truffle sauce is from a company that specializes in authentic Italian foods for your pantry. Toss with pasta (especially the Filotea line that we have in stock), use a dab to finish meats, spread a little on hamburgers or grilled chicken, use in sauces and mashed potatoes, or with foie gras on a baguette. You can even serve with cheese and crackers with the jar in the center of your platter.
Grown underground and hunted only by the help of pigs and dogs in Italy, these rare and luxurious tubers are one of the most sought after ingredients by top chefs. They have been called the diamond of the kitchen. Known as one of the most desirable gourmet foods, nothing else comes close to the flavor of a truffle. Enjoy all that this magically flavorful tuber has to offer. Refrigerate after opening.