Three Little Pigs Petit Mini Toast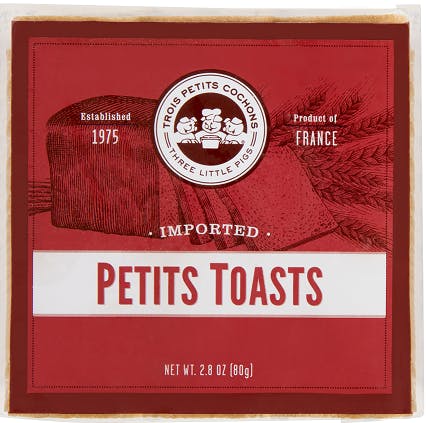 These mini-toasts imported from France have a crusty texture and mild taste ideal for Pâtés or cheeses. They contain no artificial colors or preservatives, they have zero trans fat and are a great alternative to plain dry crackers. Les Trois Petits Cochons has produced award-winning, all natural pâté and charcuterie since 1975 by crafting small, handmade batches using high-quality ingredients. The Bottle Shop has carried their fine products since 1985. One of the most awarded specialty food companies in North America, Les Trois Petits Cochons began as a small charcuterie in Greenwich Village, New York City. Today it leads the pâté and charcuterie industry, offering a complete line of artisanal pâtés, mousses, terrines, sausages, saucissons, smoked meats and other French specialties. We carry TPC pâtés, mousses, mustards, cornichons and toasts with pride.
Ingredients : Wheat Flour, Glucose-Fructose Syrup, Yeast, Non-Hydrogenated Palm Oil, Salt, Emulsifiers: Sunflower Lecithin, Mono & Diacetlic Tartaric Esters of Mono & Diglycerides of Fatty Acids, Leavening Agent: Sodium Hydrogen Carbonate, Sugar. Contains: Wheat Flour (Gluten). May contain Milk, Egg, Sesame.