Lyrarakis Dafni Psarades Vineyard White 2019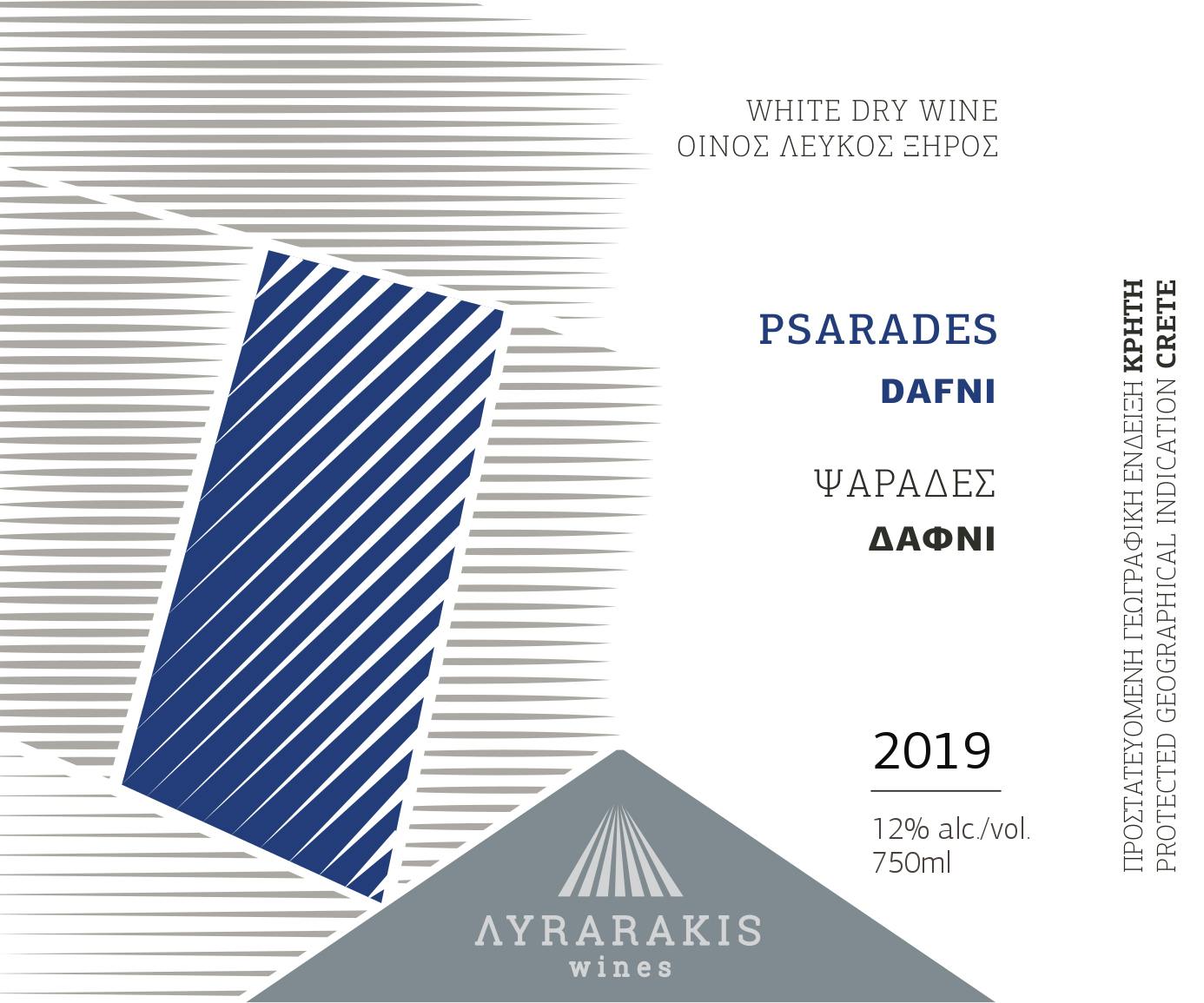 Made of 100% Dafní, an indigenous greek variety saved from extinction in the early 90's by the Lyrarakis family and planted in their "Psarades" estate vineyard. It is located in central Crête, at 480 meters above sea level. The soil is clay and loam. "Dáfni" means laurel (bay leaf) in Greek. The eponymous wine evokes its aromas. This goes through skin contact for 10 hours. 5% of the juice comes from grapes that are fermented for an extended time on the skins in order to balance the acidity. Fermentation in stainless steel tanks, aging on the lees for 4 months. Aromas of laurel, rosemary, citrus notes in the background, refreshing mouthfeel and intensely aromatic finish. Sustainable and organic farming practices, and this is vegan.
The Lyrarakis Estate was founded in 1966 by brothers Manolis and Sotiris Lyrarakis. It is surrounded by the Lassithi mountains and focuses on rare local varieties and single variety wines. The Lyrarakis family is credited with the revival of two ancient white Cretan varieties, Dafni and Plyto while a third "vineyard treasure", the indigenous Melissaki, was also recently added to their credit. Indigenous reds such as Kotsifali and Mandilari are highlights at the estate, as well as Syrah, Merlot and Cabernet Sauvignon, for which the great Symbolo is produced (also in stock at the Bottle Shop).
The winery is situated in one of the most noteworthy vineyard regions of Crete, namely at Alagni, Heraklion, the most mountainous village of the appellation area (AOC) of PEZA. The company only started bottling wines under the Lyrarakis name in the early nineties, and 1992 was the first vintage. Today, the company is managed by the second generation: Bart (CEO and now good friend of the Bottle Shop:), George (Chairman) and Manolis (viticulturalist). The estate vineyards spread over 14 hectares, at an average altitude of 550 meters. The soil is composed of gravel and limestone.
This wine's story just gets better and better, found this : Daphne was the dazzlingly beautiful nymph of Greek mythology who was turned into a laurel tree when she begged to be saved from Apollo's advances. Daphne, or dafni, means laurel. It is also the name of an extremely rare white grape, native to the island of Crete, that is so-called because it makes wine that has a distinctive whiff of bay.
According to Bart Lyrarakis of Domaine Lyrarakis, wine made from Dafni was likely to have been drunk by the Minoans. "A copper vessel dating back to the late Minoan period was found in the Cave of Ilithias [goddess of childbirth and fertility]. It's inscribed – in ancient Linear A writing – with the words dafnitis oinos – laurel wine."
Bottle ShopDafni is our new best friend!!! She is so clean, tasty, deep and stony, reminding us of a good French white from limestone soils. Look for pear, white peach, anise, lavender and lemon verbena notes with mouthcoating texture and mouthwatering freshness. She has a dry, complex style like a good Sancerre or white Burgundy, and she is positively yummy! We really hit it out of the park by pairing her with Old Bay garlic Meyer lemon shrimps, goat and sheep's milk cheeses and a tomato cucumber basil salad at home. But experiment on your own, Dafni is truly delicious.