Fossacolle Brunello di Montalcino 2015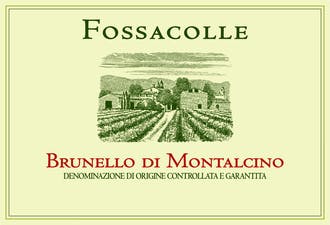 Owner Sergio Marchetti belongs to an old patriarchal family of the 18th century. The family's descendants have lived and farmed on this land for generations. In the 1980s, the owner of the lands gifted Fossacolle to the family when he sold the properties. Fossacolle is four hectares of vineyards in the medieval town of Tavernelle in southern Montalcino. This area benefits from the wind of nearby Maremma which creates a perfect climate to grow and to mature grapes. Sergio and his family manage the vineyards and his son-in-law, Adriano Bambagioni, with the help of his son Stefano, carry out all the enological and commercial aspects of Fossacolle.
The Fossacolle Brunello di Montalcino is made from 31-41 year old vines, very old, with spurred cordon trellising. The soils are medium textured, soil tending to clay and limestone with some layers of tuff. Fermented in stainless steel tanks for 22 days (30-32°C), followed by a long maceration with frequent pumping over and delestages. Malolactic fermentation takes place in concrete vats, then the wine is aged in traditional Slavonian oak barrels (25 HL) and French oak barriques for 24 months, followed by 12 months in concrete and 8 months in bottle.
James SucklingExcellent ripeness of fruit here with glazed strawberries, blood oranges, red licorice and dried spices. Superb density and focus to the centre palate, which is layered, ornate, plush but balanced. The finish goes on and on with nutmeg, tar and saffron. Wonderful length and intensity. Drink from 2024.
Wine AdvocateThe Fossacolle 2015 Brunello di Montalcino shows a prominent mineral note of crushed stone and talc powder. It becomes a fitting segue to more typical aromas of wild berry fruit and balsam herbs. There is some firmness or tannic bite on the close that suggests extra cellar aging is required. Even just a few years should be enough to shave it off. This wine is tightly coiled and inward-looking at this early stage in the game. The finish is structured and angular, but it just needs to open. Fruit comes from a 2.5-hectare vineyard with full southwest-facing exposures.
VinousFossacolle's 2015 Brunello di Montalcino is dark yet extroverted, showing notes of crushed plum, ripe strawberry, dusty cedar, a citrus spritz, and refreshing red florals. Strawberry, with hints of spice, inner cedar and leather tones all open up on the palate. The 2015 finishes with medium-length and zesty, tart wild berries with a touch of spice.