Altesino Brunello di Montalcino 2015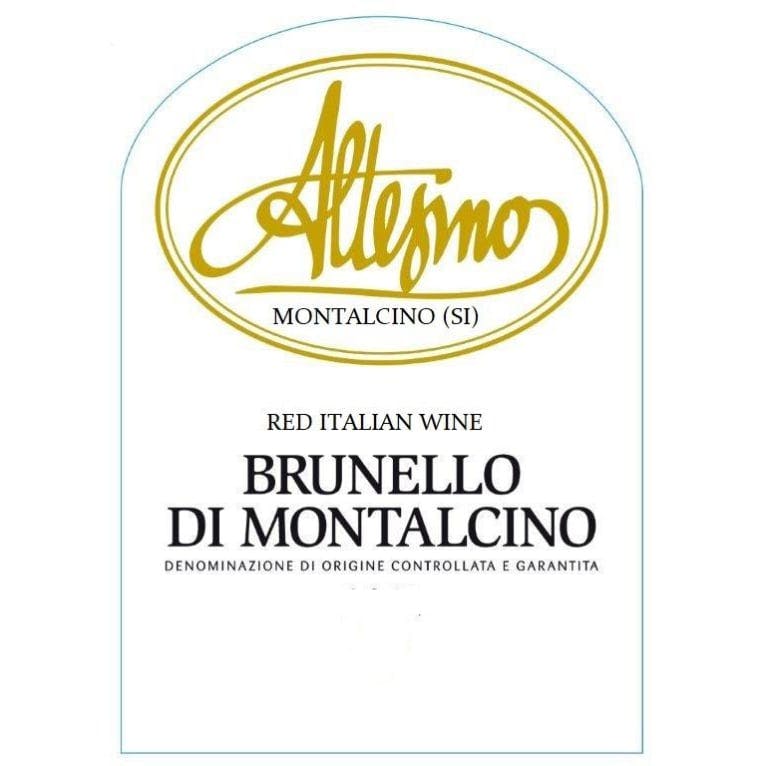 Unavailable
We're sorry, but this product is not currently available.
Amid the eastern hills of Montalcino near Siena in central Tuscany, stands the magnificent 14th century-built Palazzo Altesi, home to the Altesino winery and resort. The ancient coat of arms, carved in white Carrara marble, is still visible above the antique oak portal. The stunning Palazzo Altesi beautifully reflects Altesino's charm and refinement. Near the end of 2002, Elisabetta Gnudi Angelini, owner of the nearby Tenuta Caparzo, purchased the Altesino winery. Today's winemaking team, led by Simone Giunti and Alessandro Ciacci, is firmly committed to maintaining Altesino's hard-earned reputation as a Montalcino institution and a global leader in innovative winemaking.
Altesino has always been a leader in Montalcino, respecting history, yet unafraid of innovation. The estate pioneered the technique of aging its IGT wines in small French oak barrels, limiting the time spent in oak to enhance each wine's personality. The resulting wines were a groundbreaking improvement over those produced by traditional methods. No longer overwhelmed by wood, they were able to display the unique characteristics of the fruit, with softened tannins and perfect balance.
Not content to rest on its laurels, Altesino became the first Montalcino estate to introduce the concept of cru wines, made with a special selection of grapes from a single vineyard. Its Montosoli Brunello, named after the prestigious vineyard, was the first of these wines and is still considered among the regions finest. Altesino also pioneered the concept of Brunello futures (wine purchased before its release) with its 1985 vintage. This commitment to innovation led to many modern wines in the estates portfolio, including Alte d'Altesi, Palazzo Altesi and Rosso di Altesino. Elegance, finesse, and a fruitier, richer style are the trademarks of Altesino's wines and have earned the estate a position among the very top producers of Brunello. This achievement is even more impressive considering Brunello is perhaps the most recognized Italian appellation.
Altesino Brunello di Montalcino is made from 100% Sangiovese Grosso grapes hand-harvested from the Altesino, Castelnuovo dell'Abate, Macina, and Pianezzine vineyards. This wine is an example of finesse and elegance inherent to Montalcino's best vineyard sites. 2015 is an age-worthy expression of this wine from the "Picture-Perfect" 2015 vintage. "The 2015 vintage is a historical year for Brunello di Montalcino that nobody should miss. The wines show impressive precision of vivid fruit, fine tannins, and freshness in acidity despite their ripeness and richness which makes them some of the most exciting in years." –James Suckling
James SucklingTerracotta, earth, iron filings, cedar and leather make for an undergrowth-driven Brunello 2015, which doesn't fall short in the fruit department either, where there are red plums and red cherries. The tannins are neatly stacked, one on top of the other, with tidy acidity drawing in vibrant fruit and keeping it taut throughout. Balanced and stylish. Drink in 2023.
Wine AdvocateThe Altesino 2015 Brunello di Montalcino shows beautiful depth and latitude, with broad fruit aromas of dark cherry and cassis that recall the warmth and golden sunlight of the vintage. The wine is deceivingly streamlined in terms of mouthfeel, but that slim and buttoned-down backbone supports a broad range of flavors and sensations, from lavender essence and camphor ash to moist soil and toasted spice. All of these elements are delivered with impressive harmony and unity, and I expect that this wine will continue on a slow, steady and satisfying aging trajectory over the next 10 years or more. Fruit is sourced from across 21 hectares of vines with tufaceous limestone soils and Alberese rock, which contributes to the freshness and balanced structure of the wine.