Matias Riccitelli Hey Rosé! 2019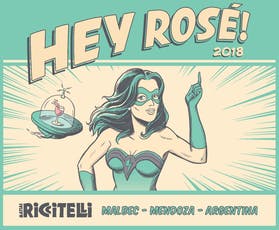 Unavailable
We're sorry, but this product is not currently available.
You can tell this is going to be fun just by looking at the label, but it isn't just charming and cool, this is really good dry Rose made of 100% Argentinian Malbec. Floral on the nose and medium weight on the palate, if you usually go for Provence Rose, try this.
Winemaker Matías Riccitelli is the son of legendary Argentine winemaker, Jorge Riccitelli, who made the wines at Catena for many decades. A breakout star from a young age, Matías was born in Cafayate, Salta, a small village in northern Argentina where winemaking is an omnipresent trade and way of life. He grew up between Cafayate and Mendoza, studying and working with his dad, who was his winemaking mentor. From there, he went on to travel much of the wine world, learning along the way, and returned to Mendoza to serve as chief winemaker for two of Argentina's top wineries, Fabre Montmayou and Bodega Norton.
Matías Riccitelli started his boutique winery in 2009, located in Las Compuertas at 1100 meters above sea level. It is the highest area of Lujan de Cuyo, and here he tends 20 hectares of ungrafted old vineyards. Matías also works with small, independent growers that own their lands at the bottom of the Andes halfway between 1000 and 1700 meters above sea level - in Gualtallary, Chacayes, Altamira and La Carrera. All harvests are conducted by hand and fermentation takes place in small concrete vats and concrete eggs. Purity and delicacy in winemaking are prized by Matías and great care is taken in preserving the fruit's singularity in order to obtain vibrant wines.
Beautiful pink salmon color. This wine shows floral aromas with notes of white fruits and citrics. It is a fresh and elegant wine perfect for a summer sunset.