Eisacktaler Kellerei Cantina Valle Isarco Sauvignon Alto Adige 2019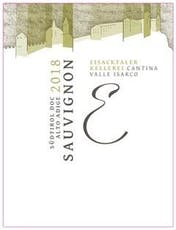 Tasted and loved by our staff, this is clean, fresh, dry, aromatic and thirst quenching, filled with mineral, lemon/lime citrus and herb flavors. Made by Cantina Produttori Valle Isarco, which is high quality co-operative founded in 1961. Located in the Isarco Valley of Alto Adige in northern Italy, this Cantina has 130 members from 11 municipalities of Alto Adige: Varna, Bressanone, Funes/Tiso, Velturno, Chiusa, Laion, Castelrotto, Villandro, Barbiano, Fié and Renon. The grapes for each bottling are blended to express the classic nature of the wines of this region, known for its exceptional white wines.
Originally from France, the Sauvignon Blanc grape variety was brought to Alto Adige about 100 years ago but only much more recently to the Valle Isarco. The porphyry-rich, warm, frost-protected soils of the lower Valle Isarco with their SE exposure are perfect for this variety, and express its noble character. Serve with asparagus, snails, poached or grilled fish, or as the perfect aperitif. Substitute your Friday night Sancerre with this, you will be very happy.