Old Pearl Cabernet Sauvignon 2017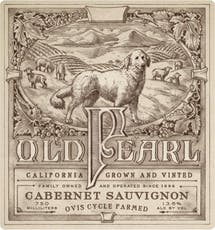 Old Pearl is a collection of wines crafted in honor of the Shannon family's beloved dogs, and named for one in particular, who has been working their sustainable vineyards since she was a pup. Old Pearl is a Great Pyrenees livestock guard dog who helps keep the ranch's sheep safe from predators. These livestock protection dogs have played an integral role in the sustainable farming practices instituted by owner Clay Shannon. Clay started out as a vineyard manager for various wineries before starting his own brand, and has gained fame for wines such as OVIS, Shannon Ridge, Buck Shack and now Old Pearl. Crafting genuine California wines with great respect for nature, Shannon and his team's wines have tons of flavor and character.
Look for bold flavors of blackberry and cherry, dried herbs and soft oak tannins. Old Pearl Cabernet will pair well with mild to moderate aged cheeses, peppery steaks, grilled chops, pasta, pizza, and vegetables such as eggplant, zucchini and escarole. Made of 100% Cabernet Sauvignon.