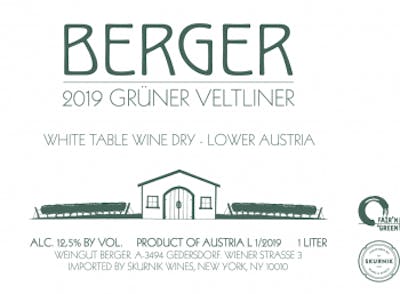 SKU: 13821
Berger Gruner Veltliner 2022
---
---
This is our all-time Best Selling Grüner! Erich Berger is a humble grower in the Kremstal, located in the village of Gedersdorf. The majority of the vineyards that he farms are devoted to Grüner Veltliner, the principle white variety of the Danube river valley. "Erich no doubt suffers from journalistic underappreciation compared with his immediate neighbors" writes David Schilknecht in Vinous. Erich has become an ambassador for sustainable agriculture, becoming a member of Fair'n Green, a sustainable organization with members in France, Germany and Austria.
Erich's Liter bottling of Grüner Veltliner has steadily improved over the last decade. It's a perfect foil for the drinkability (wines called 'glou glou' in wine circles) that this variety is known for, but it also has an extra level of clarity and complexity that is sometimes missing from this category. Fermented entirely in stainless steel from estate grown fruit in Loess dominated soils in the Kremstal.
Dry, zingy, crisp and clean with pure, frisky green fruit flavors of lime, melon and pear, this is a terrific alternative for Sauvignon Blanc and Pinot Grigio lovers. Sealed with a screwcap in the handy liter bottle, this pairs well with white fish, chicken and veggies, especially asparagus, string beans, artichokes and brussel sprouts, or veggie pâté, hummus, cheese & spring onion crackers.
wa

91

Wine Advocate

ws

91

Wine Spectator

st

91

International Wine Cellar