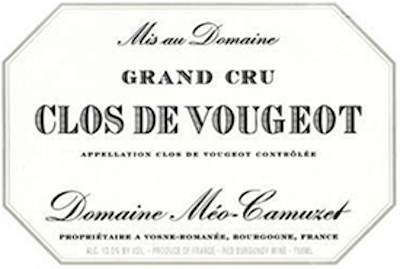 SKU: 05374
Domaine Meo-Camuzet Clos de Vougeot 2020
---
Unavailable
We're sorry, but this product is not currently available.
---
This great wine was crafted from a 3 hectare parcel superbly placed high on the slope, across from the Château. Jean-Nicolas Méo describes 2017 as "one where we enjoyed a relatively tranquil growing season. After the vinifications I found the wines to be a bit light but they really put on weight after the early but long malos finished and they possess much better balance. My take on the style and quality is that the 2017s are like more interesting versions of the 2007s. They're charming and delicious, plus I think it should drink well young."
Méo-Camuzet is one of the most celebrated domaines of the Côte d'Or, located in the heart of prestigious Vosne-Romanée. The domaine boasts 14 hectares of land in some of the most spectacular appellations and crus of Burgundy. Founder Étienne Camuzet was not only a passionate vigneron, but a full-time politician, and spent most of his time in Paris, representing the Côte d'Or. By the time his daughter had inherited the estate, she found herself with no successors, so the estate was passed down to her closest relative, Jean Méo. Jean was also deeply involved in national politics-he served as a member of Charles DeGaulle's cabinet. Consequently, he, too, had to direct the domaine from afar.
Then in the early 1980s, as many of the métayeurs were starting to retire, it became clear that the domaine needed a new direction. Jean's son, Jean-Nicolas had also spent most of his life in Paris, but had an enormous passion for wine growing. By 1985, it was his turn to take the helm. In lieu of continuing to rent out their highly-pedigreed vineyards, he made the bold decision to slowly start reclaiming the land for the domaine's own bottlings. He called upon the resident expert, one of Burgundy's greatest winemakers of all time, Henri Jayer, for guidance. Henri had spent over forty years farming parcels from Méo-Camuzet under his own label. For three years, he mentored Jean-Nicolas during the transition and finally decided to retire in 1988. Jean-Nicolas has since directed the winemaking in the cellar and managed sales. He has put the vineyards in the capable hands of Christian Faurois, son of one of domaine's métayeurs, who has dedicated himself to these vineyards since 1973.
We have visited this illustrious estate and tasted wine with Jean-Nicolas. He is extremely serious and detail-oriented with an underlying passion for the vines and the wines which he ultimately produces. Today Domaine Méo-Camuzet bottles four astounding grands crus (Richebourg, Clos de Vougeot, Corton Clos Rognet, and Échezeaux, with two more Cortons soon on the way), ten premier crus (from the communes of Vosne-Romanée, Nuits-St-Georges, Chambolle-Musigny, and Fixin), several village wines including this Vosne-Romanee, one Bourgogne Rouge, and only one white. Jean-Nicolas aims for balance and purity of fruit, which he accomplishes with terrific success. Though delicate and fine, even in their youth, the paradoxical concentration and intensity of these wines make them ideal for long aging.
At Méo-Camuzet the vineyards are extremely well cultivated. They have great old massal selections with small bunches. They do things to spare no difficult work, to spare no expense: they remove all the lateral shoots by hand; even with yields of 20 hl/ha in 1995, they did a green harvest; they sort stringently at every harvest; the cellar work is impeccable and they bottle everything by hand. Jean-Nicolas Méo stresses that for his négoce wines he does everything as though these were domaine wines, which is to say all of the vineyard work and harvesting plus of course the vinification and élevage duties.
The 2020 Clos de Vougeot Grand Cru had to shake off a little reduction before revealing its minerally blackberry, raspberry and cassis fruit. Wilted rose petal emerge with time. The palate is medium-bodied with supple tannins, nicely focused yet surprisingly strict and linear at the moment. This will gain "shoulders" once in bottle.
wa

91

Wine Advocate

ws

91

Wine Spectator

st

91

International Wine Cellar