Château Peyredon Lagravette Haut Medoc 2013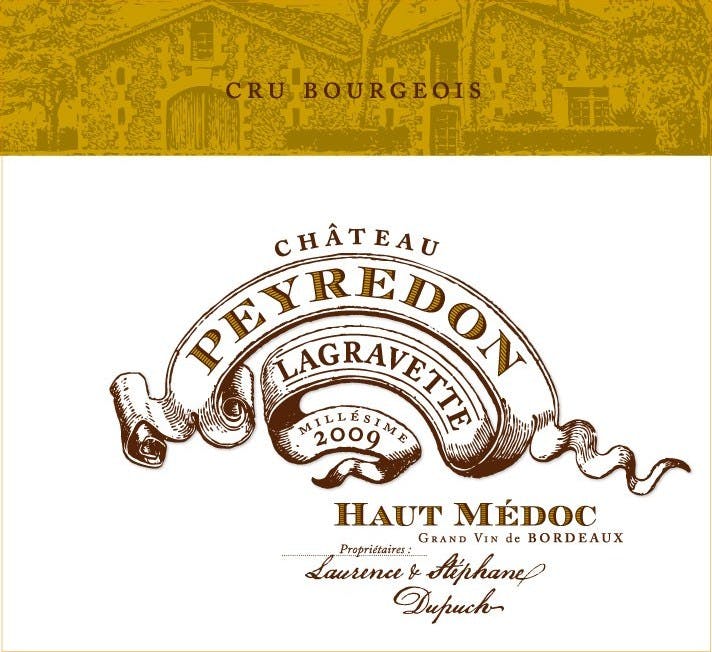 Unavailable
We're sorry, but this product is not currently available.
Stéphane Dupuch of Château Sainte Marie, along with his wife Laurence, realized a long-time dream in 2009 when they purchased Château Peyredon in the Haut Médoc. In a way, they believe the estate chose them rather than the other way around. After months of searching for a small property and winery on the Left Bank, they became convinced that small estates had all been absorbed by Grands Chateaux (many of which are now owned by banks and insurance companies), and whatever was available was prohibitively expensive. One day however, word of their search reached the owners of Peyredon-Lagravette, who happened to know Stephane's father, and did not want to sell their life's work to a large corporation. They proposed a long-term buy-out that Stéphane and Laurence could work with financially, and it was "le destin" (destiny), as the French would say.
The Dupuch's set to work immediately, and began farming organically at Peyredon, as they also did in Entre-Deux-Mers at their estate Sainte-Marie, with the greatest respect for wildlife and flora. Peyredon Lagravette is part of the Grand Poujeaux hill, reputed for its warm, well-draining gravel terraces, which provide ideal growing conditions. The wine is a blend of 60 year old Cabernet Sauvignon and Merlot densely planted at 10,000 vines per hectares in the outstanding Graves Quatenaires in the Champs de Médrac. In their tiny garage winery, Laurence vinifies each parcel separately in stainless steel and concrete, and the finished wine is aged for 12 months in French oak barrels hailing from the forest lining the serene property.
Located between the appellations of Moulis and Listrac, the Haut-Médoc produces more fine wine per acre than almost anywhere else in the world. Château Peyredon also boasts the prestige of being bordered by neighbors Château Poujeaux, Château Chasse Spleen and Château Maucaillou, very famous estates for many centuries.
The 2013 is a blend of 63% Cabernet Sauvignon and 37% Merlot with gravel on clay sub-soils. All grapes hand harvested. Cabernet Sauvignon and Merlot vinified separately in stainless and concrete. Aged 12 months in 1/3 new, 1/3 one year-old and 1/3 two year-old barrels. And finally, we love the origin of the name from the actual soil of the place : Peyredon translates to Hill of Stones, and then Lagravette is the name of the small gravel stones in the vineyard.
Bottle ShopMint, black cherry and stone aromas lead to more of the same in the mouth with pure, refined red and black fruit flavors gliding on the palate. We really loved the balance, freshness and purity of this wine, tasting of the 'Atlantic effect' that winemaker Stéphane Dupuch seeks in his wines. Pair with roasted meat dishes, aged cheeses and cured meats at home.