Chateau Sainte Marie Alios Cotes de Bordeaux 2016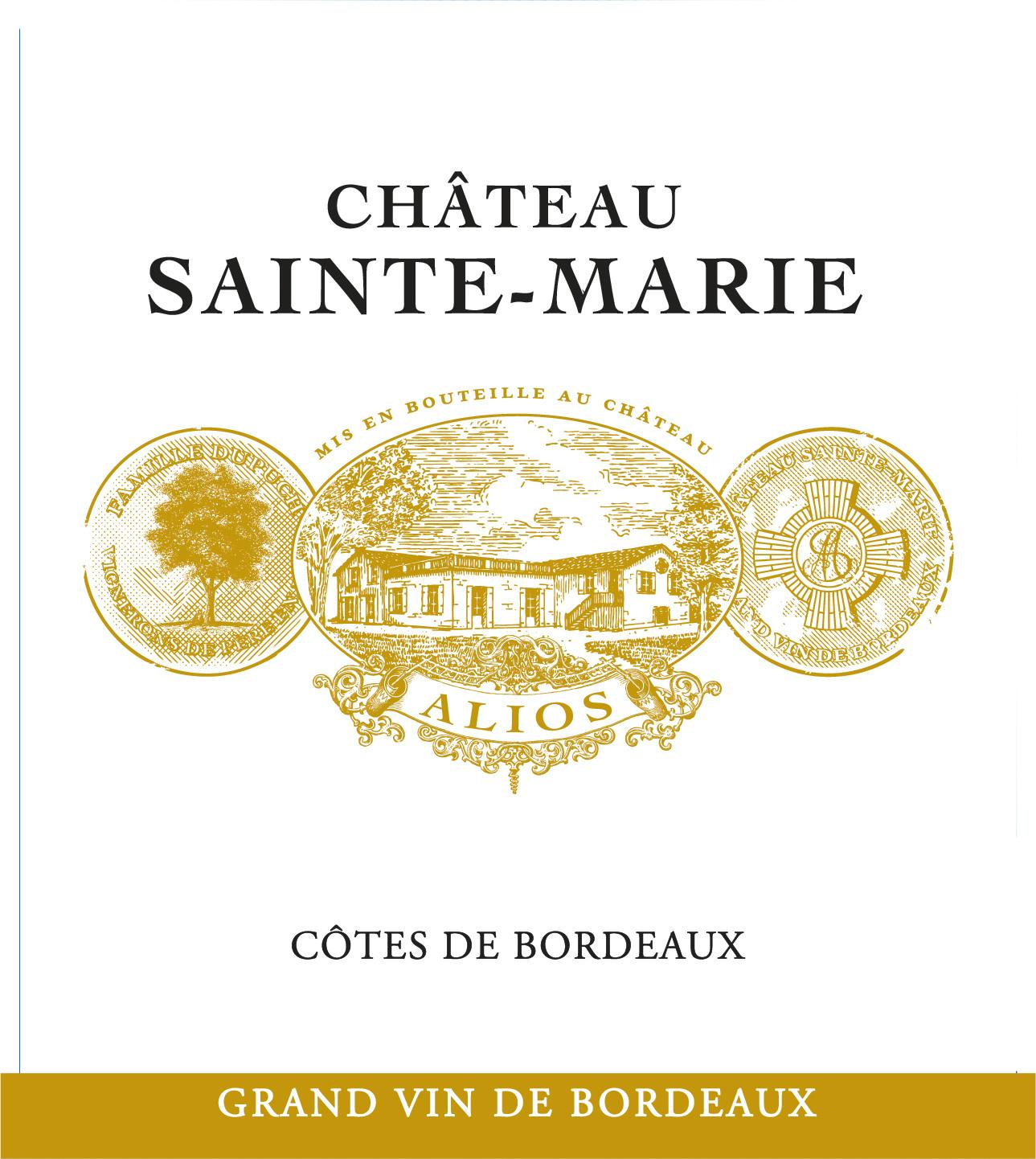 This lovely, rich and flavorful blend of 74% Merlot, 21% Cabernet, 5% Petit Verdot truly reminded us of a Pomerol, and indeed is made of a similar cepage. Alios takes its name from its sand silex and iron soils. From a small, steep vineyard deemed a 'sanctuary terroir' in the Entre-Deux-Mers, this is ample and generous on the palate with dark fruit flavors backed by a mineral core and well-integrated tannins.
Set in the heart of the Entre-Deux-Mers region, the high quality estate of Château Sainte Marie enjoys an excellent geographic position.The south-facing vineyards stretch over two very sunny hilltops which are among the highest points in the Gironde region. Fifth generation Stephane Dupuch took the helm in 1997 and immediately transitioned the estate over to organic viticulture. Like his father before him, Stephane served a stint as the President of the Entre Deux Mers Growers' Association with the primary goal of convincing his colleagues that the future of the appellation will be found through denser vine planting, lower yields and natural vineyard management.
Stephane is committed to working his soils, encourages biodiversity in the vineyards, and has been known to take extreme measures to allow his terroirs to speak for themselves. One example of this is his mulching program. Stephane planted grassy bamboo reeds on appellation soils, which he mulches and places at the foot of vines. Rather than ordering truckloads of mulch from the local grain store, he opted to develop his own system from his own terroirs so as to not invite anything foreign into the vineyards.
The Dupuch family is gifted in old vines, the most elderly being 107 year old semillon vines, which due to their high altitude, uniquely survived the devastating 1956 frost that destroyed a large portion of Bordeaux vines on both banks. The remaining plantings of Sauvignon Blanc, Muscadelle, Merlot, Cabernet Sauvignon and Cabernet Franc have an average vine age of 35-40 years. Of particular significance is Stephane's sloping parcel known as Alios, which was named as one of just fourteen sanctuary terroirs in all of the Entre Deux Mers, meaning the site can never be used for purposes other than vineyard land. This protective honor is a nod to Stephane's tireless efforts farming this majestic terroir.
From harvest to fermentation and through elevage, Stephane works to preserve fruit, freshness and terroir expression. Grapes are picked early in the morning, often before sunrise, and each parcel is vinified separately to maintain terroir specificity. Wines ferment with indigenous yeasts, and all vineyard and cellar work follows the lunar calendar.
Wine EnthusiastEditor's Choice : Swathes of dark tannins and a dense texture introduce this wine. The black fruits, rich structure and concentration are part of this firm wine made under the direction of cellarmaster Géraldine Lussiez. With layers of rich wood from 12 months in 400-liter barrels and black-currant flavors, it is still developing.