Domaine Michel Lafarge Côte de Beaune Villages 2017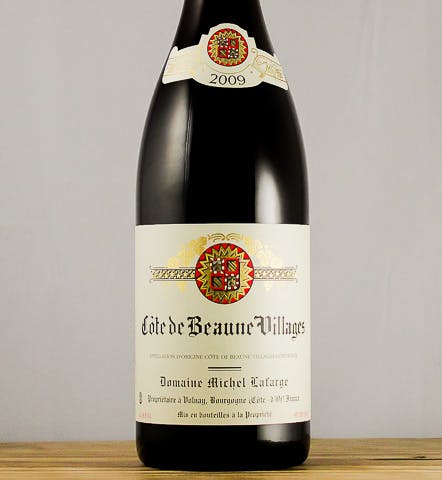 Domaine Michel Lafarge is one of the great producers of the wines of Burgundy's Volnay appellation. The domaine is small, owning just under 25 acres of vines, and producing only about 4,000 cases annually, but the wines are models of their genres. The family has been cultivating grapes in Volnay since the early 19th Century and possibly back to the late 18th Century. Very gradually did the Lafarges accumulate, piece by piece, the portions of vineyards that comprise their domaine; these include Volnay Clos des Chênes and the wholly owned Clos du Chateau des Ducs, Beaune Grêves, Pommard Pezerolles (all Premier Cru) and parcels of Volnay village and Premier Cru, as well as Bourgogne Aligoté and Bourgogne Passetoutgrain and a village Meursault.
Lafarge was a pioneer in bottling its own wine, rather than selling the wine to a negociant, beginning with the harvest of 1934. The wines see only about 25 percent new oak, typically aging for 15 to 20 months, depending on the vintage and the vineyard. The entire domaine has been farmed on biodynamic principles since 1997-2000.
Wine AdvocateThe first rendition of this cuvée since the 2012 vintage, the 2017 Côte de Beaune-Villages offers up lovely aromas of red cherries, minty wild berries and sweet soil tones. On the palate, it's medium-bodied, supple and succulent, with melting tannins and a flavorful finish. This hails from vines that touch Santenots. 88-90
VinousThe 2017 Côte de Beaune Village, that was not produced from 2012 to 2016 due to the frost damage, sees no new wood during élevage. Welcome back! It has good volume on the nose: raspberry and wild strawberry, perhaps just a little smudged from the season's warmth at the moment. The palate is medium-bodied, quite structured for its category, good grip with a vivid raspberry and cranberry driven finish. Very fine.