Domaine Michel Lafarge Meursault Vendages Selectionnees 2018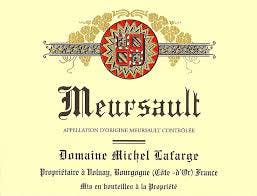 Domaine Michel Lafarge is one of the great producers of the wines of Burgundy's Volnay appellation. The domaine is small, owning just under 25 acres of vines, and producing only about 4,000 cases annually, but the wines are models of their genres. The family has been cultivating grapes in Volnay since the early 19th Century and possibly back to the late 18th Century. Very gradually did the Lafarges accumulate, piece by piece, the portions of vineyards that comprise their domaine; these include Volnay Clos des Chênes and the wholly owned Clos du Chateau des Ducs, Beaune Grêves, Pommard Pezerolles (all Premier Cru) and parcels of Volnay village and Premier Cru, as well as Bourgogne Aligoté and Bourgogne Passetoutgrain and a village Meursault.
Lafarge was a pioneer in bottling its own wine, rather than selling the wine to a negociant, beginning with the harvest of 1934. The wines see only about 25 percent new oak, typically aging for 15 to 20 months, depending on the vintage and the vineyard. The entire domaine has been farmed on biodynamic principles since 1997-2000.
VinousThe 2018 Meursault "Vendange Sélectionée" comes from 70- to 75-year-old vines on chalky soils located just below Santenots-du-Milieu. It has a perfumed bouquet of yellow plum, orange pith and light honeyed notes. The palate is showing more harmony and precision than the Meursault Village at the moment, as well as good depth and a touch of ginger on the finish. Excellent. 91-93
Wine AdvocateAn step up over the domaine's regular bottling, the 2018 Meursault Vendanges Sélectionnées reveals aromas of crisp green pear, white flowers, beeswax and smoke. It's medium to full-bodied, with more depth and tension, concluding with a chalky finish. As usual, this cuvée derives from parcels that touch Santenots.