Villalobos Artistas Reserva Carmenere 2017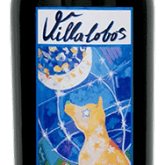 This organic family-owned estate in the Colchagua Valley of Chile specializes in small batches of red wine. The mother, Rita Encina, is a professional ceramist, the father Enrique Villalobos, a sculptor, and their sons: Martin and Renaldo are both civic engineers and Alejandro is a Philosophy professor. Each has their own profession, but they unite around their vineyards and viticulture.
They started making wine in 2007 with a small production from the family. It was only to be a small production for the family and friends but then they produced their first commercial harvest in 2009 to critical acclaim.
Their Carmenere vineyard is twenty years old, andd lies on clayey, quartz-laden soil. Located at a 30-km straight shot from the Pacific Coast, the vineyard is nestled in a warm, temperate climate where the dry season lasts six to eight months out of the year. Daily temperature differences can be up to 20 degrees celsius, fostering maturation and the sugar concentration. During the summer months, temperatures can range from 30°C to 10°C.
The nose reveals a hint of herbal undertones and a strong scent of ripe, macerated cherries gently followed by a trace of green pepper with a chocolate touch. The palate boasts ripe fruits and smooth tannins, with a dark chocolate finish. Pair with seasoned salmon or tuna, ripe cheese, farmhouse sausages and game meats.