Domaine Poulleau Bourgogne Pinot Noir 2017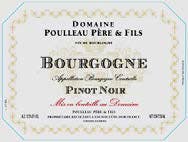 Sourced from Volnay and Beaune villages, from old vines averaging 30 years, this lovely Pinot was aged in 2-5 year barrels so as not to mask the bright ripe fruit of the vintage. There is an underlying minerality that convinces this is Burgundy and not a new world Pinot. Only 10 barrels made. Look for a lovely bouquet of ripe red fruits and supple, round palate. Pair with beef bourgignon, roasted chicken or delicate cheeses such as fromage d'affinois.
Domaine Poulleau is a lovely 7.3 hectare domaine located in Volnay. The domaine was created by Michel Poulleau in 1950 and today is diligently managed by Michel's son Thierry Poulleau and his wife Florence; 1983 was Thierry's first vintage. The domaine has ownership in 7 appellations and produces 93% red wines mostly in Volnay but include Bourgogne, Beaune, Chorey, Aloxe & Corton Charlemagne. These grapes are 100% hand harvested with a severe triage before fermentation and represent classic terroir and fruit focused wines. Thierry is very judicious with his use of oak, always respecting the individuality of the parcel's terroir.