Marcelle De Changey Chassagne-Montrachet Abbaye de Morgeot 2017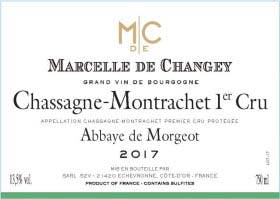 This is one of our most exciting discoveries in white Burgundy in a very long time. Marcelle de Changey Chassagne-Montrachet Premier Cru is bottled by a 5th generation domaine named Jean Fery. Made by a woman winemaker, Laurence Danel, who gained her experience at the famous Burgundy houses of Bouchard and Faiveley, the wine is also from one of the most illustrious and sought-after vineyards in Burgundy : Abbaye de Morgeot.
You will find the Premier Cru vineyards of Morgeot in the heart of the Chassagne-Montrachet appellation. In the midst of these beautiful vines there is a very old chapel which was part of the Morgeot Abbey, built by Cistercian monks around 1150. So the parcel or climat around it is named Abbaye de Morgeot, and it is one of the best positions due to its incline and southeast exposure. The incline results in more evenly ripe grapes, while the orientation is just enough to provide some exposure to the morning sun and shade from the late afternoon sun. Grapes can ripen slowly and evenly in this mesoclimate, developing aromatically while retaining acidity. Wines from this cru command very high prices from the larger houses due to the excellent quality. This Changey offering will give you the complexity and grace, at an extraordinary value.
Bottle ShopUltra refined, balanced and pure with clean, stony, minerally flavors coupled with citrus, apricot, pear and peach fruits. This almost has a hint of spiciness on the finish as well, it is extremely polished and delicious, we just love this, it is a perfect Chassagne.