Domaine Faiveley Puligny Montrachet 2017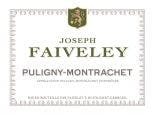 Faiveley sources their village level Puligny Montrachet from parcels throughout the village, mostly estate fruit, and including Les Boudrières vineyard. Their goal is to source from varying terroirs to produce the most consistent and well structured wine. Grapes are harvested by hand and sorted upon arrival at the domaine. Following primary fermentation the young wine is aged for 14-16 months in a combination of 2/3 new and 1/3 used oak barrels.
The vineyards are farmed with sustainable methods, and date as far back as 1964 (50+ year vines). The soils are limestone and stony which are ideal for Chardonnay. About 900 cases produced per year.
The nose is very pleasant and charms through its subtle and entrancing character. White flower scents mix with delicate aromas of vanilla and fresh hazelnut. After a bold attack on the palate, the charm continues and the wine glides on the finish. This sensation of fatness, together with its acidity, make it a delicate and balanced wine.
VinousMade from 40-year-old vines in Les Boudrières; mostly from estate fruit: Bright light yellow. Crushed rock and menthol on the lively nose, with emerging notes of pineapple and minerals. Then precise on the palate for village wine, displaying very good mineral and floral lift to the pineapple and nectarine fruit flavors. Weber told me that the grape bunches here were perfect in 2017.