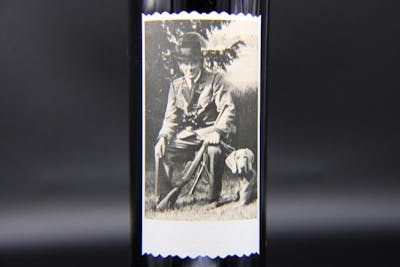 SKU: 01632
Sine Qua Non The Hated Hunter 2017
---
---
Letter from SINE QUA NON... 'Our wines were born of pure passion and a wishful dream – to make something that is so distinctive and so delicious as to make it indispensable to wine lovers the world over. Clearly a rather lofty, even unrealistic notion, but one we decided to pursue anyway. And so with the 1994 vintage started , made a whopping four and a half barrels of Syrah that we called "Queen of Spades."
That first wine was a much greater hit than we could have ever imagined and it literally changed our life. What started as a hobby, more or less on a whim, has become not only our full time occupation, but indeed our life. It is now a part of just about everything we do. We are humbled by all the positive feedback we continuously receive by people like you as well as critics and journalists from all corners of the earth. We take that as our mandate to forever strive to get better, to never compromise and to stay true to ourselves and by extension to all those who have supported us and believed in us since those first 100+ cases of wine left our cellar…now so many years ago.
Although at heart we are a Rhone (Ranger) house where Syrah and Grenache play top fiddle… supported by Mourvedre, Rousanne and Viognier, we have an aversion to labels and dogmas or mindless ritual that are sometimes called tradition. And so we also grow non-Rhone-origin grapes such as Petite Manseng, Touriga Nacional, Graciano and Petite Sirah. Varieties we believe can work well on a Rhone canvas.
We are not working on a grape growing or winemaking THESIS. Instead we want all of our efforts to be reflected in every glass of SQN. And so our goal has been and always will be to understand Mother Nature's often oblique ways and (re)act accordingly so that we may create wines that express all that Nature has so generously given us. And all that this beautifully warm and sunny place called California has to offer. Wines that speak to the heart and the mind both. Wines that are ripe and flavorful, but also graceful and balanced. Wines that are perfectly enjoyable and delicious young, but that will age and show a new and interesting personality with each passing year. Wines that surprise with each sip and where the last drop – not the first sip – was the best one. Wines that make you smile and happy and appreciate all that is lovely.
Wines that make you sense they were crafted by people who loved making them. With that we hope you'll join our vinous family and thanks again for looking us up. \
In vino veritas,
Elaine & Manfred Krankl
Not yet bottled, the 2017 Syrah Hated Hunter looks to be another magical wine from this estate, which has produced an incredible number of truly profound wines over the coming 10-15 years. Made from 82.4% Syrah, 7.8% Petite Sirah, and the rest Mourvèdre, Grenache, Viognier, and Petit Manseng, it will spend 23 months or so in 59% new French oak. My notes are sprinkled with a few expletives, but it does everything right, offering incredible purity of fruit, notes of white flowers, cured meats, spice box, and blackcurrants, full-bodied richness, and a seamless texture. It shows the pretty, perfumed, ripe style of the vintage yet is flawlessly balanced. The 2017s have a touch of the 2015 structure and austerity, so plan on 4-5 years of bottle age. 98-100
The 2017 Syrah The Hated Hunter is laced with the essence of black cherry, plum, new leather, tobacco, menthol and licorice. Striking aromatic top notes add nuance to this potent, beautifully resonant Syrah from Sine Qua Non. A whole range of blue/black stone fruits, lavender and licorice build effortlessly. A marvelously complete and promising wine, the 2017 offers a striking interplay of aromatic intensity, rich fruit and structure. 95-97
wa

91

Wine Advocate

ws

91

Wine Spectator

st

91

International Wine Cellar